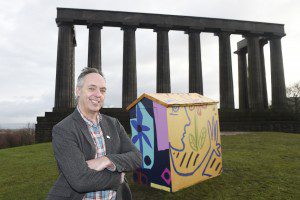 DRIVING rain failed to dampen the spirits as RIAS launched the Festival of Architecture 2016 at Edinburgh's Calton Hill.
Described as "the most ambitious ever nationwide celebration of the built environment of a single country", over 400 events and exhibitions will take place around the country to celebrate Scotland's architecture.
The festival is at the centre of the Year of Innovation, Architecture and Design.
Headline events will include a night-time public art event in St Peter's Seminary in Cardross, a space adventure exhibition at The Lighthouse and a competition for young composers to submit a piece of music inspired by Scotland's finest architecture.
One of the quirkiest events on the programme is the Ideal Hut Show, where 20 garden sheds will be transformed by top architects, artists, designers and celebrities and be displayed in a series of venues including Royal Botanic Garden Edinburgh and Glasgow botanic Gardens.
David Dunbar PPRIAS, chair of the Festival of Architecture, said, "This national celebration of great architecture will transform Scotland's relationship with its built environment. It will improve our appreciation and understanding. It will also be great fun.
"The thing I would like to emphasise is that it's not for architects. We're going to try and involve everyone in Scotland. I'd ask everyone to get involved and enjoy it."
Culture Secretary Fiona Hyslop said, "The Festival of Architecture will be one of the main attractions in 2016's Year of Innovation, Architecture and Design which will shine a light on Scotland's achievements from the creative industries and fashion to engineering and renewables.
"The programme that RIAS have curated looks set to offer a host of exciting opportunities for people in every corner of Scotland to access, enjoy and celebrate architecture encouraging us to think about the important role that our built environment plays in every aspect of our lives."