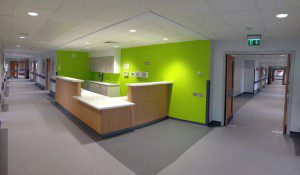 BAM Construction has handed over the first phase of works at University Hospital Crosshouse in Kilmarnock.
The work includes a new combined medical and surgical assessment unit including the provision of 35 bedrooms, treatment and assessment rooms, and staff support facilities all within a new purpose built extension.
The project is part of NHS Ayrshire & Arran's Building for Better Care Programme, which will provide new 'front door' facilities for patients visiting the hospital for anything other than scheduled appointments. It means patients should receive rapid assessment by senior clinical staff.
Doug Keillor, regional director, BAM Construction, said, "The hospital has remained fully functional throughout this first phase with minimum disruption experienced by all the staff, visitors and patients, which is the most important aspect of working in a live hospital. The new facilities are first class and will provide a welcoming environment for people seeking emergency medical care and their families."
Phase two will feature eleven ambulatory care cubicles as well as pharmacy and associated support rooms. The programme of works, valued at £7.78m, is scheduled for completion in March. BAM is also delivering similar facilities at University Hospital Ayr as part of the same programme.