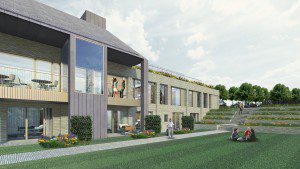 Turner & Townsend is acting as project manager and CDM advisor on the new Prince & Princess of Wales Hospice (PPWH) for Glasgow.
The new purpose built facility will be built at Bellahouston Park on land gifted by Glasgow City Council.
The £21 million project is being privately financed, largely by the fundraising efforts of the hospice and the generosity of supporters and the community.The hospice set up the Brick by Brick Appeal to build a new facility in Glasgow, which was launched in September 2012, aiming to raise £15 million of the £21 million needed to build a new modern hospice fit for the 21st century.
The project build is to commence in 2016 and the Brick by Brick Appeal is having a final push to raise the last £5 million needed for the project funding.
This hospice will be the first of its kind in the UK to implement the Sengetun model of care – a Scandinavian model that puts patients and family at the centre of its focus alongside optimal operational care. Set up in the 1980s to provide free specialist palliative care for people with terminal illnesses, primarily cancer, as well as support for families and carers, the hospice has outgrown the existing facilities at Carlton Place.
Turner & Townsend is one of a group of fifty companies in Glasgow, the 50:10 Club, who have each committed to raising over ten thousand poundstowards the £500,000 required to fund the Atrium in the new Hospice. The Turner & Townsend team have raised in excess of ten thousand pounds in four months, carrying out a number of fundraising activities; marathon running, a thirty four mile hike; cake baking to name but a few, with fundraising efforts ongoing.
Andy Outram, director for Turner & Townsend, said, "This is a project that is close to the heart of everyone in the area. We are delighted to be part of the team working on this facility that will help so many people in years to come. This project really will be a project for the people, by the people of Glasgow when it is scheduled to open in 2018."