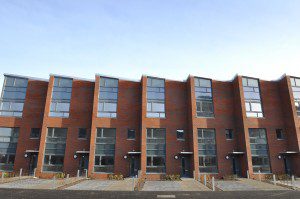 By Alex Brown, managing director of NorDan UK
WHEN you look at some of our oldest buildings in Scotland – ancient castles and palaces, the grand and sweeping New Town crescents of town houses in Edinburgh, the red sandstone giant homes in the west ends of Glasgow and other Scottish cities, ancient cottages in the Highlands and Islands, these buildings all have one thing in common – their windows are made of timber.
Timber windows last centuries. And timber for manufacturing windows is a trend that continues. The most modern highly engineered windows coming in from Scandinavian countries today are also made from timber.  Timber that has been grown very slowly, in very cold countries, to make it stronger and stronger. And carefully selected to comply with the PEFC Initiative, ensuring its environmental credentials.
In the most recent developments in design and engineering of timber windows, the frames made from laminated layers of timber, some with an additional thermal layer inserted in between, increase the thermal performance.
That's how we are making them in NorDan today. Our windows are also unique in the shape of the cill and the drainage arrangements engineered into the frames.
For a timber window to perform successfully it is essential that air is allowed to circulate and water is allowed to drain out.
Timber windows remain the product of choice in situations where longevity is important – for example in social housing, where the financial equation demands they will not need replacing for a very long time. We can prove a lifetime of at least x60 years.
It's also helped by the fact we are one of the only manufacturers to treat all timbers with a double vacuum impregnation process.
Architects have historically chosen timber windows for finely designed, one off, dreamed of, self-built homes; for educational establishments and up market developments.
They frequently specify them with just a simple lacquer finish on the interior, to emphasise the beauty of the timber itself.
Timber is a natural material, acting as the "carbon sink" continuing to absorb carbon dioxide throughout its life, thus contributing positively to the environment and our sustainability goals.
This makes it a unique building material. And with continuous improvement to glazing choices, the u value of a window can be as low as 0.7 for a triple glazed window.
Cost in life is an important equation for buildings where the investment has to be returned. Timber windows designed and supplied from NorDan UK Ltd, for example, are proved to require little or no maintenance during their long life cycle.
If they do require repairs or touching up, timber can be worked with, easily sanded and filled, repainted, and handles replaced easily if damaged.
The design and engineering of these timber windows qualifies them for the Police Secured by Design badge.
They are extremely difficult to penetrate, giving tenants additional peace of mind.
Argon gas inside the double glazed units add to their thermal performance, and helps with acoustic reduction as well.
Some of our standard windows have decibel reduction as good as 38 dB Rw – and this can be increased, useful for applications beside busy roads, on a flight path or near a railway line.
These windows are manufactured with such precision that they are suitable for Modern Methods of Construction, where the windows are installed in factory conditions before full walls are transported to site, for speed of build – handy in Scotland with our seasonal weather giving every modern building site its challenges.
NorDan has one window which is totally unique to the market, and ideal for both high rise blocks and student accommodation.
The "three handled tilt turn" window has the capacity to be opened by two of its handles to the tilt position for ventilation, but have its third handle removed to ensure safety, and only refitted when needed for cleaning or maintenance purposes.