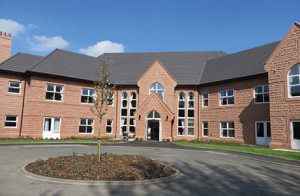 A new multi-level care facility is now open after a complex four-zone build programme, completed in partnership with Stewart Milne Timber Systems and its expert design and construction team.
Nazareth House is a 420 m2 two and three-storey care home in Glasgow. Developed by contractors CBC Glasgow, the building is a contemporary residential care facility with 70 beds, communal living spaces, and a number of specialist care resources
With expertise in the medical sector, Stewart Milne Timber Systems was selected by CBC Glasgow to design, manufacture and construct the timber systems for this project.
As phase one of a much larger development, Nazareth House needed to be delivered on time and in budget with challenging build programmes, split into four separate zones to implement and be delivered simultaneously. With a complex roof design, the building also required a large mechanical plant to be integrated into its structure providing added intricacy to the design required for the timber systems and build programme sequencing.
The project was also started over the winter months meaning that 'weather proofing' the building early on became important for the success of the build. Stewart Milne Timber Systems provided upfront consultation and design co-ordination with additional programme and sequencing advice.
The firm produced, delivered and erected large open panel timber systems, featuring a 38 x 140mm external wall, across all four build zones within 17 weeks. Using an on-site crane to erect the building and address the large open place spans, it also supplied 300mm JJI Engineered mid-floor cassettes, roof trusses and attic trusses, which were manufactured offsite.
The building was weather tight within weeks, allowing the rest of the building to be completed without interruptions from the weather over the winter months.
Despite the complex build programme, the project was delivered on time and within budget.