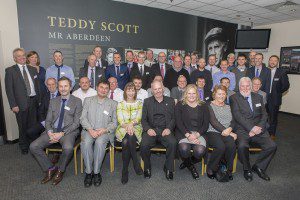 THE Stewart Milne Group has celebrated more than 500 years of loyalty by employees at a ceremony at Aberdeen Football Club's Pittodrie Stadium.
The event, part of the Group's 40th anniversary celebrations, was attended by employees from across the Group. A total of 36 members of staff who joined the business in 1975, 1985, 1995 and 2005 had amassed 515 years with the company and received 10, 20, 30 and 40-year loyalty awards.
The achievements of employees at the beginning of their careers were also recognised with the Group's annual apprentice awards. Craft apprentice awards were presented to Rory Findlater, an apprentice graduate design technician with Stewart Milne Timber Systems, and Ross Roy, an apprentice quantity surveyor with Stewart Milne Home North. Michael Rough, an apprentice joiner with Stewart Milne Homes North, received the trade apprentice award.
Milne, the Group's executive chairman, said, "Trust, quality and passion have been values that we have held dear from the very beginning and they remain at the very heart of the business today 40 years on from our start in 1975. We have come a long way over the decades and we are enormously proud that today we are at the forefront of housebuilding and construction in the UK.
"Marking our 40th anniversary gives us the opportunity to celebrate our people, who have driven the business forward and continue to ensure that we focus on the needs and aspirations of our customers. Their commitment, passion and attention to detail are central to our success and I am proud of what we have achieved together and what we aim to achieve in the years ahead."