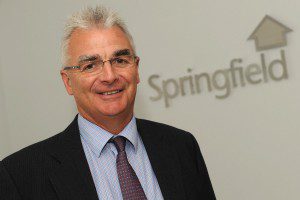 SPRINGFIELD Properties Plc has announced a 14 per cent increase in turnover in its annual results.
The award-winning firm's results to May 2015 show an increase in turnover of £10 million to £84 million. Net profits before tax were £3.1 million against £4.1 million in 2014.
Managing director Innes Smith said, "This has been an important year for Springfield with a number of large private and affordable developments beginning to come on stream after years in planning and design. The year has seen a significant increase in our affordable housing presence in the central belt with five new active sites. Profit has dipped temporarily as older sites were completed and investment was made in promoting new sites.
"Projections for next year see turnover continuing its steady rise, reaching around £90 million. We anticipate profit to climb as big new developments in Perth, Dundee, Elgin and Nairn come on and the expansion of our affordable housing operations in the Central Belt put Springfield in a strong position.
"Developing young people is important for our continued growth too. Apprentices and trainees make up 10 per cent of our workforce. This year we have taken on more than 20 young people to fill new apprentice and trainee positions across the business."
Company chairman Sandy Adam added, "This has been another successful year for Springfield. We have excellent people working for us, building great houses. Springfield has invested heavily in land over the last five years and has an approved or zoned land bank of more than 5,000 plots."
During the year, the company built 510 homes and, for the third year in a row, scooped the National Home Builder of the Year award.