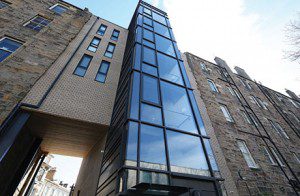 Project Scotland speaks to Steve Wightman, director at Senior Architectural Systems, about the firm's high-profile projects and plans for future growth
Q) What's the history of Senior Architectural Systems?
A) Senior Architectural Systems was founded in 1991 by David Senior and Lennart Jonsson. Originally based in Bradford the aim was to revolutionise the fenestration industry by putting customer service and delivery at the forefront and this ethos remains a core value for us. For this reason we quickly looked to invest in setting up additional regional centres so that all our customers, irrespective of geographical location, received the same high level of customer service.
We opened our Scottish office in Livingston in 1993, with our Welsh office in Newport following in 1994.  A couple of years later in 1996, we bought the paint factory next to our site in Scotland and this was really significant as it enabled us to provide customers aluminium systems that were already powder coated. As the business grew, we relocated from Bradford to our current operation in Denaby in 2001 and from there, we've moved onwards and upwards. Many of our founding customers are still with us today, some 24 years later, having grown with us and these continuing relationships are so important to us.
Q) What have been the standout projects you've been involved in?
A) In Scotland, we are very proud of the multi-million pound contract work in the education sector we have done, especially the many schools in Glasgow, South Lanarkshire, Dumbartonshire, Clackmannanshire and Falkirk.
Our Hybrid timber and aluminium composite window system was also specified for use on Solcer House, the UK's first low-cost energy positive house.
Q) Most challenging moment?
A) Without a doubt, it was moving our business base from Bradford to where we are now In Denaby in 2001. Our new one stop shop of 135,000 sq ft site gave us plenty of room to grow, but putting in two new paintlines, one vertical and one horizontal, together with a new computer system challenged us to our limits!
Q) What impact, if any, did the recession have on the business?
A) The obvious one was a reduction in demand, but very early on we anticipated the problems.
Our customers needed assistance with credit occasionally, and we were able to help them. We also took the opportunity to reshape the business, and reinvested through the difficult times in research and product development, so that when the market picked up we had the best product offer.
Q) What does the future hold?
A) We are constantly looking to future proof our business and so research and development into expanding our range of environmentally conscious products is a main focus.
This year has been a particularly busy one as we have launched a number of new products, including our new high thermal performance SF52 curtain walling and the new patent pending PURe window and door systems which offers exceptional low u-values through the use of PUR insulation.
We have also recently expanded our technical and specification services which has strengthened our national focus and has also given us a dedicated presence In London. Looking ahead, further investment in plant and machinery is going to happen in the near future as the demand for PURe has been phenomenally successful.
We are also continuing to secure new work in the education, housing and retail sectors and our new products are the perfect fit for these markets.
Q) How do you stand out in a competitive marketplace?
A) Senior now has a very competitive and high performance offer, together with a commitment to upholding our high standard of customer service.
If you link that with our cooperative approach to the business supply chain where we look to develop meaningful relationships with our suppliers through to architects, our fabricators, main contractors and their clients, we stand out.
Q) How important has the Scottish market been to your success?
A) One word – essential! We are the only systems company to have truly committed to the Scottish market as we have invested in premises, stock on the ground and more importantly – people.
Q) Can you talk about some of the Scottish projects you have been involved in?
A) We are pleased with the diverse range of projects we have done, the education ones we have mentioned, but we have also been involved in a number of health projects such as Musselburgh Primary Care Centre.
The Euro Marine Sciences centre at Oban and Council Offices at Bathgate have all used our Hybrid timber composite curtain wall and windows and the Gateway Theatre student accommodation scheme at Edinburgh is another great example of the flexibility of our aluminium curtain wall and windows systems.
We have also delivered a number of car showroom contracts such as Harry Fairbairn at Kirkcaldy.
Q) What are the biggest changes you've seen in the industry?
A) The industry is constantly evolving with thermal performance improvements and sustainability being high on the agenda.
We as a company are looking inwards to see how we can constantly improve our own working practices such as investing in a biomass boilers and eco-friendly trucks, together with looking outwards at the products we offer and improving their performance.
We are also much more commercially aware, and have invested in a Senior Glass Systems to provide a true one stop shop for fenestration solutions.
Q) What awards and recognition have you received?
A) We aren't terribly awardfocused, and don't really put ourselves forward. We are much more concerned with helping our customers realise their vision and contributing towards achieving goals like an Outstanding BREEAM accreditation on a project is particularly satisfying – and we have many BREEAM accredited projects under our belt.
We are also keen to sponsor key schemes such as the RIAS awards and conferences, which actively support our industry in Scotland.