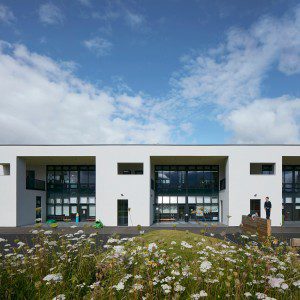 AN innovative new primary school has been tipped to pave the way for Scottish schools of the future.In January 2012 Scottish Futures Trust (SFT) issued an invitation to tender for a reference primary school design as part of Scotland's £1.8 billion Schools for the Future programme, which aims to rebuild or refurbish some of the country's poorest schools. Walters & Cohen Architects was chosen for the new Lairdsland Primary School, the first of five new schools to be completed for East Dunbartonshire Council's Primary School Improvement Programme.
The design has been hailed as one which will change the thinking on how schools are laid out in the future. The design is contemporary to suit a range of teaching and learning styles. The acoustic design was carefully considered to ensure that numerous teaching activities could take place in the heart space and the adjacent formal learning areas.
The school has double-height glazed screens that offer views from one side of the school to the other; fun and bright learning spaces; covered outdoor learning areas; and an open plan heart space showcasing an amphitheatre staircase.
Michál Cohen, director, Walters & Cohen Architects, said, "Lairdsland is our first primary school in Scotland and we are very pleased to have produced a tailor-made response to the special location on the Forth & Clyde Canal, and to the aims of the school, the Council and SFT. The challenge of devising a brief to meet the requirements of the Scottish Curriculum for Excellence made this a very interesting and rewarding project."
Grant Robertson, associate director at the Scottish Futures Trust (SFT) added, "As the Scotland's Schools for the Future Programmes 'Reference Primary School', Lairdsland Primary School is attracting lots of interest and appears to be revitalising thinking on how future primary schools across Scotland are designed and used. The innovative design provides all councils with a scalable and tried and tested solution which is allowing local authorities to evolve and fine tune elements of the design principles to respond to the specific requirements of their own design brief. This is an excellent example of how clever thinking, coupled with a very effective and efficient design solution is being used to create fantastic, high quality environments for pupils and teachers to learn and teach in."