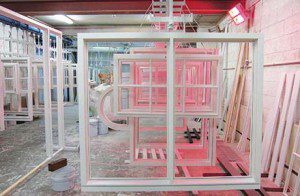 Mumford & Wood, a manufacturer timber windows and doors, has been chosen as supply partner to replace over 1000 windows and doors as part of the major £11.5 million refurbishment project at Trump Turnberry Resort.
This comprehensive refurbishment includes the remodelling and upgrade of all 103 bedrooms and public spaces within the existing hotel as well as the construction of a new, 500-person capacity grand ballroom at this world-renowned golfing and leisure venue.
"Delivering Mr Trump's vision to create the most luxurious hotel anywhere in the UK is a great challenge that we are delighted to accept," explained Frank Buckley, managing director, Mumford & Wood Limited.
"The brief is to convert this building to its former glory and to once again provide opulent, high specification guest accommodation.
"It is a great compliment to the Mumford & Wood brand and we are proud to have this project in our portfolio.
"Production has already started and we will be delivering in phases to meet the build programme set by main contractor ISG."
Exterior enhancements at the hotel include the replacement of all the windows with high-performance double glazed Conservation™ windows; repairs to the roof and dormers and renewal of render to all elevations of the 109 year old building. The new 6,000sq ft grand ballroom is an additional facility and has been designed to blend seamlessly with the original architecture of the hotel.
The contract for Conservation™ products includes top hung casements, many in a double and triple height configuration; large fixed sashes, including curved on plan; decorative curved header sliding sash windows; double and single French doorsets, as well as special bullseye shaped windows.
"We are surveying every window and opening; many of them are very high and access is by cherry picker only and this is definitely not a one-size-fits-all contract," said Owen Dare, technical director.
"The hotel will be closed for some months and we are all working to a very tight build programme so there is absolutely no room for error.
"These products will be going through our production processes until Spring 2016.  The success of this project relies on our specialist expertise in producing like-for-like replacements and having the capacity to deliver such a large and specialist contract.
"First phase delivery has been through the factory in less than a month."
Factory finished, double glazed Conservation™ products are manufactured from premium quality engineered Siberian Larch which is both stable and durable.
Manufactured to the exacting standards of the British Woodworking Federation's Wood Window Alliance scheme they are BRE A+ rated and offer the highest standards of thermal and acoustic performance and many are Secured by Design accredited.
These British-made products carry the BSI Kitemark and are Energy Saving Trust listed.
They will be delivered to site with three coats of high quality, spray-applied microporous paint as standard which will provide the ultimate protection in this exposed, coastal location.