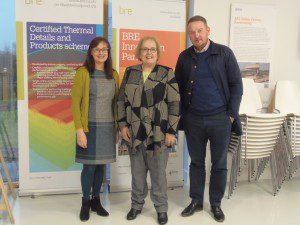 BRE Ravenscraig recently played host to Marion Fellows MP, the Westminster representative for the people of Motherwell and Wishaw.
During her tour of the facility, which was conducted by Dr David Kelly, Group Director BRE Innovation Park Networks, Ms Fellows visited the Curriculum House, which has been designed and built by brightest and best architectural and construction students from New College Lanarkshire and is the first 'live' higher level educational project of its kind in the UK.
She was also impressed with the Energy Efficient Home, specifically designed for the affordable sector of the market by Scottish firm AppleGreen. This uniquely designed home has attracted international attention from organisations and governments across the globe who are seeking to address their own house building industries, by improving skills, creating jobs and ultimately building large volumes of quality, affordable, energy efficient homes.
Dr Kelly of BRE said, "We greatly enjoy welcoming visitors to the Innovation Park as it allows us to share our vision and ambitions for future solutions to many of the issues we face today, so it was a particular pleasure to welcome Ms Fellows, in her capacity as an elected Government representative. At BRE Ravenscraig Innovation Park, we aim to blend science and technology with innovation and entrepreneurship to find solutions for existing and future buildings not only in Scotland but in the UK, in Europe and around the world."
Ms Fellows also saw first-hand the Refurbished House, a recreation of the "four in a block" home – a house type of which there are over 250,000 in Scotland. The model at Ravenscraig, which has been delivered by BRE Scotland, Edinburgh Napier University and Historic Scotland and was constructed by local builders Cruden, demonstrates a range of innovative "retrofit solutions" for this house type, which accounts for some of the most energy inefficient homes across the country.
Just last month, Deputy First Minister John Swinney visited BRE Innovation Park to unveil the Retrofit App, whose data is the most up to date in the market, and was captured as a result of ongoing testing and monitoring of the Refurbished House by BRE.
Guided tours of BRE Innovation Park are available to all and can be arranged by contacting the Park direct on 01698 262193