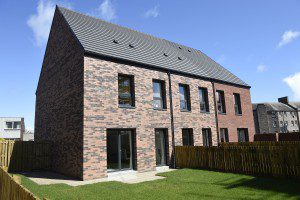 LAST month Project Scotland reported that planning approval had been granted for an extra 177 homes in Pennywell, one of Scotland's largest housing-led regeneration projects.
Urban Union's second phase plans for the Pennywell Living Development is part of a vision with the City of Edinburgh Council to deliver over 700 homes in the area.
Stuart Bishop, Director Architect at Barton Willmore, tells Project Scotland about some of the architectural details and design of the challenging project.
Q) What was Barton Willmore's involvement in the Pennywell project?
A) As a multi-disciplinary consultancy, most of our areas of expertise were utilised at some point in the process.  We were involved extremely early on, supporting Urban Union with their tender bid. This involved leading the design evolution of an outline masterplan for the whole regeneration area, as well as taking the architectural design to outline proposals stage for Phase 1 of the overall development.
Since award of the project to Urban Union, Barton Willmore have continued to play a significant part.  We are providing a full architectural service including outline design development, securing statutory consents, enabling community consultation, full detailed design and technical production information, and construction phase support to the main contractor.  Additionally, our in-house Planning Consultants have provided Town Planning services, our Landscape Architects have developed full landscaping proposals, and our graphic designers have designed sales brochures and literature for Urban Union's private housing.  So we really have been involved across a broad spectrum of services. The result being a project very close to our hearts due to the high level of involvement over a long period of time.
Q) What challenges did the project throw up?
A) One of the challenges I found most interesting was managing the feedback and requirements of the multiple stakeholders involved. For example, Urban Union are providing  50% of the housing  to Edinburgh Council, and we engaged with various departments including 21st Century Homes, Housing, Refuse, Transport, Planning Officers, local community groups, local councillors, etc.
As a landmark project, all of these stakeholders were very enthusiastic and engaging, and the careful management, collation and incorporation of their requirements was indeed very important, but challenging.  I think a combination of skills is key to overcoming this challenge – knowing the right questions to ask, being engaging and enthusiastic, being clear and concise in presentations, adopting a methodical and pragmatic approach, and of course listening and recording intently.
Urban Union were also very proactive in this regard, very much adopting a proactive rather than reactive approach; going the extra mile for the various stakeholders. Our success on this front is demonstrated by the fact that the planning approval for Phase 2 (for 177 new homes) was approved by CEC Committee with zero public and consultee objections; for a project of this scale, and having such an impact on an established community, we feel this is a fantastic achievement.
Q) Was the end result what you initially envisaged?
A) Absolutely. Urban Union and the design team have put considerable effort into design quality, with a holistic approach to urban, landscape and building design, and it is extremely rewarding to see this quality come to fruition on site.  We are extremely pleased with the end result and every time we attend site and see more and more buildings nearing completion, the more we can see how the development works cohesively on an urban level.
Our design approach was to utilise a stripped back limited and quality palette of materials – no 'add on' materials for the sole purpose of creating visual interest – we created the elevational interest through a quality multi-tone facing brick, neat detailing and large well-proportioned openings set to regular and well considered rhythms. Careful coordination of services also minimises any services penetrations onto principal frontages, resulting in simple, robust, stripped back and extremely neat elevations that we strongly feel will stand the test of time.
People could be forgiven for thinking that simple elevations like this are easy to design – quite the opposite is true, it takes a lot of hard work, coordination and intelligent design to keep elevations clean, simple and tidy.
Personally, I think one of the most exciting aspects of being an architect is putting your heart and soul into developing designs, often over a period of years, and knowing that design inside and out. You then see that design gradually climb out of the ground, bit by bit nearing completion.
Timber kits go up, bricks get laid, roofing goes on, scaffold drops and there it is; the culmination of years of numerous peoples' energy and expertise.  Knowing that it will stand there for scores of years and will positively influence numerous people's lives on a daily basis, knowing you were fundamental to the process and have knowledge of every nut and bolt is a great feeling!  One of my most memorable moments was a site visit following the first handover of one of the houses to a new owner.  For the first time in over a year of visiting the site you see a car in the driveway instead of a skip, new curtains in the window and pictures hanging on the wall, and it looks fantastic! The project is no longer a construction site; it's someone's home where their kids will grow up. To see that process from beginning to end and to positively influence it in a significant way is something that really excites us as a team whilst generating a lot of pride, and I know that Urban Union share that pride
Q) How important is this development for northwest Edinburgh?
A) The Pennywell and Muirhouse community have been waiting on this housing regeneration for a very long time.  It's fair to say that the area traditionally has seen severe social problems, not helped by an existing poorly designed urban layout, historic piecemeal development, poor quality housing and a lack of cohesive and distinct character.  Our masterplan and architectural design seeks to influence all of this in a positive way.  The four phases of the project bound north, south, east and west of the Pennywell area, giving the opportunity to try and knit the urban layout back together. This provided a positive and cohesive visual character throughout, whilst promoting safe routes and public realm that will be well used by the community.
As the development completes and beds in, we hope it will help the community move on from the social problems it has been associated with historically.  Also, the lack of quality housing in the area is a big issue for the population. The injection of over 750 new homes in the area at affordable prices means young people are not forced to move out of the area, they can stay near family and friends and help boost the struggling local economy.
Q) How big an issue was sustainability in the design of these homes?

A) The brief set by Edinburgh Council/21st Century Homes and enthusiastically adopted by Urban Union set high standards for sustainability. From an energy reduction point of view, a fabric first approach is adopted with high levels of insulation in the building envelope, high levels of air tightness and simple standard detailing to minimise cold bridging. We also adopted a Mechanical Ventilation Heat Recovery System (MVHR) in every unit, which essentially provides a low cost air conditioning system, and exchanges warmth from stale air before it is expelled over to incoming fresh air, thereby reducing heating costs.
On the next phases, we are considering the use of Photo Voltaics and DMev ventilation systems.
However, for us as architects and for Urban Union as the developer, sustainable design embraces much more than just environmental issues; there are strong links between the social, economic and environmental dimensions of all human activity and well designed buildings can contribute to improving health and well being. The housing design seeks to be flexible enough to accommodate the changing needs of families over time, maximises daylight and comfort, thereby promoting longevity of occupation.
Quality public realm spaces that promote community safety and security, and have character and a sense of place provide the opportunity for being well used and encourage a sense of pride. Additionally, extensive engagement during the design process helps to encourage community buy-in at a very early stage, again promoting that sense of pride and community involvement in the project.  All of these factors can only help to promote the long term viability of a community and hopefully prevent any future large scale clearances of poor quality neighbourhoods that the area has experienced in the past.
Q) What feedback have you had from the project?
A) Whilst visiting the site earlier this year, Councillor Cammy Day, housing convener for the City of Edinburgh Council, said, "The construction of the first phase of Pennywell is well underway, and the completed new homes look absolutely fantastic. Bringing good quality houses at prices that hard-working families can afford will encourage people to move into the north of the city, create jobs and in turn, stimulate the economy."
Pennywell was nominated for the 'Best Achievement in Master Planning'. The nominations form part of the prestigious Scottish Property Awards, which showcase the best new commercial and public property in Scotland.
Pennywell has received a silver award from The Considerate Constructors Scheme. The development was reviewed in five categories: appearance, respecting the local community, protecting the environment, safety and valuing its workforce. It received the silver award as it was deemed to have excelled across all five areas, since its launch.
Q) What's the history of Barton Willmore?

A) Barton Wilmore was established as an Architectural Practice nearly 80 years ago when Harry Barton joined a small practice in Farnborough, run by registered architect Harry Dungay. After the war he set up offices in Camberley and became sole principal practising under the name of H Austin Barton carrying out commissions for one-off houses. The firm continued to expand and in January 1961 he offered a partnership to Oliver Willmore who was to run the Camberley office whilst he continued to work from Bracknell, expanding the practice's client base to include local housebuilders and commercial developers.
The practice grew to prominence in the 1970's when Barton Willmore and Partners received a number of architectural commissions which required a high degree of town planning skills.
The late 1990's saw both significant change and substantial growth in the practice.  The company's corporate identity was re-launched in September 1999 to reflect the five separate disciplines that now form the practice, namely Architecture, Master Planning, Planning, Environmental and Project Services. Today, Barton Willmore employs over 300 people across 11 offices UK wide.
Throughout the company we are involved in some fantastic projects. Our Edinburgh architecture team recently secured large scale housing projects in Perth and Dundee, and our success on the Pennywell development has led to further significant commissions in Edinburgh.  We are also involved in the design of a new contemporary community building and a visitor centre in East Renfrewshire.  Our Town Planning consultants have assisted Urban Union with their transformational Laurieston project in Glasgow, and we have also been involved in the design of the Commonwealth Games Athletes' Village in Glasgow.