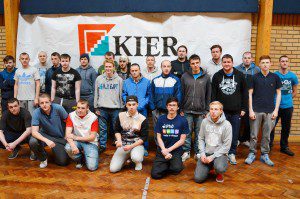 Kier, in conjunction with the British Army, is providing an opportunity for unemployed Ayrshire youngsters to improve their employment prospects through work placement training.
The Armed Forces Employability Pathways (AFEP) initiative will improve the likelihood of them securing apprenticeships or employment opportunities in the construction industry in the future, as well as providing the opportunity for the candidate to enlist in the Army reserves or regulars.
The Ministry of Defence is rolling out the AFEP programme this month in partnership with Kier and the Department for Work and Pensions (DWP), a scheme undertaken with the support of local employers to create training and employment opportunities.
Kier, which is facilitating the programme, received 75 referrals from the DWP, who attended interviews to gauge if candidates were suitable for the initiative. The 37 successful participants undertook a one week training programme with the Army last week, to be followed this week by a week at Ayrshire College and a two-week work placement with a local employer from Kier's supply chain.
Brian McQuade, managing director of Kier Construction's Scotland and north-east England business, said, "We are proud to be facilitating this initiative alongside the British Army and other local organisations. The employability prospects of all those taking part is likely to greatly increase following their time in this worthwhile scheme. Figures from a similar scheme that we supported in the north-east of England found that 70% attending the course went on to employment, full-time education or further training, with 72% also applying to join either the regular army or the army reservists.
"Ayrshire, where this programme is being run,  is a key region for Kier with ongoing work taking place on the £40m East Ayrshire Learning Campus for East Ayrshire Council, the £24m Ayr Academy and the £35m redevelopment of Marr College for South Ayrshire Council and the £36m Garnock Campus for North Ayrshire Council. We always seek to work alongside the local community and provide opportunities for suppliers and subcontractors based in the area as we have continued to do across all activity in Ayrshire."
Lieutenant Colonel Gordon MacKenzie, British Army, added, "This is a great opportunity for job seekers to boost their confidence and get a taste of the Army's values and standards as part of their preparation for work in the construction sector. The main aim is to increase their chances of getting a job by building their confidence and skills, but we also hope some of them will decide to join the reserves, keep the skills training going and tap into a second income worth around £3,000 a year on top of their day job."
Based at the Dreghorn Army Reserve Centre, Ayrshire, week one ran last week week and has seen participants taking part in drills and learning skills in presentation, team working and problem solving to help build their confidence and introduce them to physical fitness.
From  2 – 6 November, Ayrshire College will provide candidates with an introduction to construction, health & safety training and basic Construction Skills Certification Scheme (CSCS) certification
Businesses signed up to take part in the initiative include Avesta (Fire Protection), Martec (Metal Work), Linear Projects Ltd, Annandale Designs, West Siphonics, Albann, P J Careys, J D Pierce, Spie, Lareine Engineering, Kone PLC, FES, DM Roofing, Clyde Coast Contracts, Sibcus and Balfour Beatty.
.