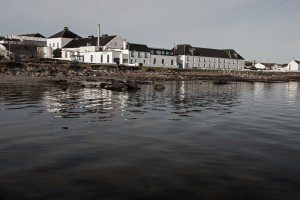 ISG has secured the initial phase of a multi-million pound development to expand facilities and create additional maturation capacity at the Bruichladdich Distillery on the Isle of Islay.
The new Coultorsay maturation warehouse complex will be built at the award-winning distillery, which was founded in 1881, to ensure a continued commitment by the brand to maturing and bottling its range of whiskies and spirits on Islay, as global demand for its products continues to increase. Bruichladdich Distillery's vision is to build six bonded warehouses at the site, as well as a filling store, disgorging unit and external cask storage.
Phase one of the development sees ISG construct the first of the new warehouses, delivering a single-storey, steel frame structure of circa 21,000 sq ft in size. ISG will also create new road infrastructure and introduce mains services across the site, which is adjacent to the existing distillery. The contractor will also undertake preparatory ground works to enable the construction of the five additional maturation warehouses, which will vary in size from circa 21,000 – 32,000 sq ft.
Andy McLinden, ISG's Scotland regional managing director, said, "Bruichladdich Distillery is an important addition to our growing portfolio of customers operating within the luxury drinks sector. We continue to secure repeat opportunities with the world's leading premium drinks businesses, delivering projects valued in excess of £50 million in recent years. Our sector-specific expertise is unrivalled in Scotland and it is this in-depth knowledge, consistent high-quality delivery credentials and collaborative approach that resonates with customers in this highly specialist and globally renowned industry."