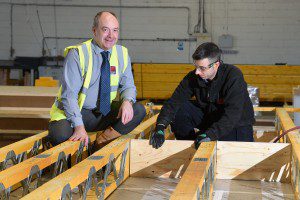 MACTAGGART & Mickel Timber Systems has invested around £200,000 into their Bellshill facility in a move which doubles their timber frame manufacturing capacity and enabled the launch of new products. A further £75,000 is being spent on an office refurbishment.
These developments are in response to growth and new business wins, including new contract wins with the likes of Campion Homes, Marshall Construction and Persimmon Homes.
Stuart Douglas, General Manager at Mactaggart & Mickel Timber Systems, said, "The Timber Systems business was formed in 2007 firstly to supply timber kits to our Homes division and then progressed to supply other customers. I joined the company just less than two years ago and very quickly realised what great potential it had. This is a great business, with great people, with solid foundations for future expansion.
"One of the things we are continually challenged on by all of our customers is how offsite manufacturing can reduce the amount of activities which require to be completed on site. The more we can do in the factory, the better. An example of this is the launch of our latest product, open web joists that we now manufacture at our factory in Bellshill and are supplying to five Mactaggart & Mickel Homes sites with all new sites to follow.
"We had originally looked at sourcing these from third party suppliers which is more expensive. That being the case, we decided to invest in a new open web press and proceed with our own in-house manufacturing, not only reducing the cost of supply but also ensuring that the finished product is of the highest quality.
"We've also bought and installed an additional frame line to double our timber frame manufacturing capacity. In the past we had a mixture of panels being manufactured on our existing frame line and benches. Now all our panels are manufactured on our frame line machines, increasing our production capacity and guaranteeing a consistent high quality of product."
Mactaggart & Mickel Timber Systems has been involved in a number of standout projects. The most prestigious was the 2014 Commonwealth Games in Glasgow, which involved 225 kits being supplied from the Bellshill factory.  The company has also provided timber kits for a new 60-bedroom Premier Inn hotel in St Andrews for ISG, supplied kits for two blocks of flats for Ogilvie Construction at Birdiehouse in Edinburgh and a care home and extension for Northcare in the Southside of Glasgow.
Stuart added, "In the last year we have introduced a number of new customers. We are now delighted to be working with Campion Homes on a regular basis. We've also just won our first site from Marshall Construction in Sauchie and our first Persimmon site for their new development coming soon at Muirhead.
"We also are continuing to work with Miller Homes, currently supplying and erecting kits on three of their sites, including their new prestigious development at Polofields in Edinburgh."
Stuart arrived at Mactaggart & Mickel Timber Systems from a non-construction background. He said, "It's a great company, a family company. This is a business which really looks after its employees, where people come first.
"We have a team of around 40 at present with our factory resource increasing by 30% in the last year. This includes two apprentices, who are fantastic. Apprenticeships are a great investment and something we will do again in the future. It's one of the solutions to the skills shortages currently being faced within the construction/timber frame sector. We've also just recruited a trainee timber frame designer.
"My advice to youngsters considering a career in construction is to get involved. The timber frame industry is an exciting place to be right now. The work we do can be very complex, working with computerised machinery and to millimetre tolerances. Within our company there is also a great chance to progress your career, as some already have, whether it is within the timber frame business or the wider Mactaggart & Mickel group.
"One of our biggest challenges has been finding the right people with the skills and experience to join our team, especially when looking for specialist skills like timber frame erectors, designers and estimators."
So what does the future hold? "It's all about consolidation for us," Stuart added. "We always look at growth, but it's controlled growth.
"We've been through a lot of expansion in the last year – new machinery, new products and new people. Now we need to consolidate on that focusing on maintaining our reputation for high quality
"We've made significant investment in the business because we think that's the right thing to do.
"We will now make sure we've got everything right before going on to the next step."