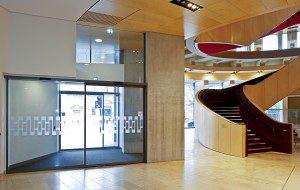 LIKE many Victorian buildings, Glasgow's oldest theatre suffered from limited accessibility and cramped, poorly functioning space. Designed to enhance the audience's journey from 'street to seat,' the stunning new elliptical foyer extension by Page\Park Architects has brought the Theatre Royal Glasgow firmly into the 21st Century.
As part of the solution to make the theatre accessible to all, GEZE UK was commissioned by Gray and Dick to install automatic sliding doors to create an entrance lobby on either side of the new foyer and a further set of automatic sliding doors were installed to access the public roof terrace. Allgood PLC also specified   a number of the company's   manual closers throughout.
With up to 1500 people using the theatre per performance, two new entrances were created on Hope Street and Cowcaddens Road and GEZE's Slimdrive SL NT single operators with ISO doors and pocket screens were specified to create entrance lobbies. Thanks to its slim design and a drive unit height of just 7cm, the Slimdrive SL operator is almost invisible in elevation, making it ideal for elegant glass façades. The entrance was fitted with girder profiles which hide the steel work above the door and enhance the slim profile of the doors.
Powerdrive PL operators have been fitted to the two 2.7m high and 1.6m wide ISO glass doors with girder profiles and pockets screens that provide access to the roof terrace and give theatre-goers the opportunity to enjoy the spectacular city vista from the bar. The Powerdrive PL has been specifically designed to provide reliable opening and closing when used in installations where extremely large and heavy doors have been specified.
Throughout the rest of the foyer, internal doors have been fitted with GEZE's range of Boxer manual closers, including the standard closer, electro mechanical hold-open closers and units with sequential closing. The Boxer is an integrated closer, installed completely inside the door leaf, so the guide rail can only be seen when the door is open.
Alex Reedijk, general director at Scottish Opera said, "We are delighted with the audiences' reaction to the new foyers and that they have been nationally recognised with the Scottish Design Award and the RIAS Cultural Building of the Year Award and nominated for the AJ 100 Cultural Building of the Year. The Theatre Royal is now absolutely fit for purpose for the 21st Century and GEZE UK's involvement and the work of the many other talented companies and individuals behind-the-scenes has been integral to the project."
Kaz Spiewakowski, managing director of GEZE UK added, "The new foyer extension has transformed Theatre Royal Glasgow and created a new landmark building for the city."