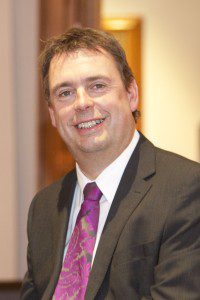 GEORGE Clooney was on hand to see CALA Homes named Scotland's large business of the year.
Chief executive Alan Brown capped an impressive year for the upmarket homebuilder, when he collected the accolade in front of 2000 people at Britain's biggest ever business awards.
The company, which has its national headquarters in Edinburgh, recently delivered record annual results, seeing pre-tax profits almost double to £50.9m and setting a target to achieve revenues of £1bn within the next five years.
Mr Brown said, "It was a privilege to collect this award on behalf of the entire team at CALA. Everyone has worked incredibly hard to get CALA to this very strong position.It's also pleasing to earn this particular award because it cements CALA's place at the forefront of Scotland's major business names.
"It was a proud moment to get this recognition in front of such an impressive gathering of business figures, as part of Scotland's most talked about business awards right here in the city where CALA Homes is based."
The event at Edinburgh International Conference Centre was a who's who of Scottish business, with the Large Business of the Year Award one of the most hotly contested of the 21 accolades up for grabs. Sponsored by KPMG, it recognises Scotland's best large business, highlighting the success behind Scotland's public limited companies as well as Scottish businesses with turnover greater than £250m-a-year.
Judges, including Sir Tom Hunter, selected CALA ahead of the other shortlisted businesses, Aberdeen Asset Management, Standard Life, Stagecoach Group and Arnold Clark.
Buzz before the awards reached fever pitch thanks to the involvement of Hollywood superstar George Clooney, who was the star guest at the event. Guests were treated to more than an hour of storytelling from the A-lister during an interview on stage with broadcaster Chris Evans.