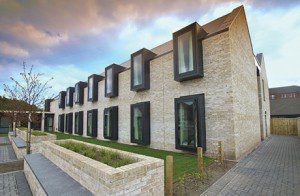 SYSTEM 4-35Hi+ Parallel Opening Vents (POV) windows are among a suite of Metal Technology Products installed in the new Ronald McDonald House, Glasgow.
The building serves the Royal Hospital for Sick Children in the city, providing 'home from home' accommodation and allowing families to stay close to their children.
The Keppie-designed project was a winner at the 2015 Glasgow Design Awards. The facility features three brick buildings connected by glazed corridors and reflects the need for a calm, secure and homely environment.
The System 4-35Hi+ POV window achieves high levels of thermal performance by utilising specially designed polyamide thermal break profiles, thermal gaskets and foam profiles. Metal Technology say the parallel opening vents offer a feature that, when open, allows air to penetrate around its entire perimeter, facilitating efficient ventilation and increasing air flow by almost double to that from a standard top hung casement window.
This is achieved without compromising security, creating a comfortable yet safe environment.
Thermal performance was maintained throughout with the use of 5-20DHi+ doors, which offer a wide range of options from standard lever/lever operation to single and double panic gear and electric release.
The buildings feature pod glazed openings utilising not only System 4-35 POV's but System 8 low rise curtain walling, which Metal Technolgy say highlights how their products offer the designer "engineered, cost-effective solutions" through design flexibility whilst maintaining structural integrity.