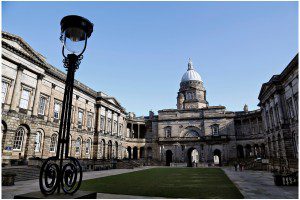 GRAHAM Construction has secured the £18 million contract to complete the refurbishment of Edinburgh Law School.
Work on the Old College Law School Refurbishment Project will begin on Monday 23 November and see GRAHAM onsite at the South Bridge-based campus until winter 2017/18.
As part of the refurbishment programme, GRAHAM will retain and restore many of the original features of the Grade A-listed Old College building, which dates back more than 220 years.
A key task will be the creation of a new quadrant library located to the west of the Old College building. Edinburgh Law School, including the current library, is being relocated to the David Hume Tower to allow the work to take place and to ensure there is minimum disruption on campus.
Regional director at GRAHAM Construction, Neil McFarlane, said, "This is a truly unique project, both in terms of the history of Edinburgh Law School and the work to be undertaken in one of the city's most recognisable buildings.
"The challenge of the refurbishment programme is to preserve the building's unique heritage while providing a contemporary learning space for decades to come – a complex integration of the old and new. On completion, Edinburgh Law School will feature a blend of modern construction techniques sympathetic to the character of this beautiful building and create an exceptional learning space."
GRAHAM Construction has delivered the successful renovations of other buildings with significant heritage in the capital, including the National Library of Scotland, Royal Commonwealth Pool, Deaconess House and the Edinburgh Centre for Carbon Innovation (ECCI) building, also housed within the University of Edinburgh.
Head of Edinburgh Law School Professor Richard Sparks added, "The refurbishment is one of the most ambitious projects in Old College's 300-year history. We are excited about the results, which will create world-class facilities for generations of law students to come and reinforce our position as one of the world's leading law schools."