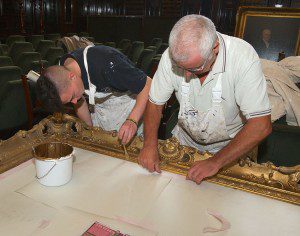 A restoration project worth more than £22,000 has been completed to transform the iconic Merchants House in Glasgow back to its former glory.
City Building has transformed an historic part of the Grade A listed building in the heart of the city. A team of six workers, including three apprentices, led by operations manager, George Cramb, conducted careful restoration and redecoration of the Director's Room, Ante Room and vestibule at the Merchants House building, which was completed in 1877.
The project, which took 10 weeks to complete, required very intricate and considered decorative refurbishments including the removal of grime accumulated over half a century as well as a range of detailed refurbishments to historical paint work and golden fern leaf elements around the rooms.
John F MacLeod, Lord Dean of Guild of the Merchants House of Glasgow said, "We are indebted to George Cramb and his team from City Building for their skilled work. They have rejuvenated the rich, bright, gilded décor to excellent standards highlighting the architectural detail of the rooms. We will enjoy entertaining guests and continuing our charitable work in these beautiful rooms which have been so carefully and thoughtfully restored."
Graham Paterson, executive director of City Building, added, "The entire team enjoyed the challenge and experience of restoring a number of areas within the Merchants House, which is such an important and rich part of Glasgow's history. The team did an excellent job on the project which highlights the range of skilled workers we have at City Building and demonstrates our range of experience working on listed historical buildings throughout the city and beyond."