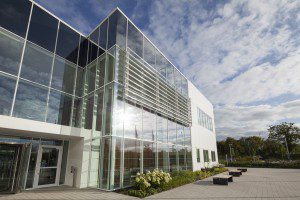 By Adrian Pargeter, Head of Technical and Product Development at Kingspan Insulation Limited
LAST month's revisions to Section 6 (energy) of the Building Standards have once again made fabric performance a central focus in Scottish construction.
However, achieving high levels of thermal performance with traditional insulation materials can lead to thicker wall constructions and less useable indoor space.
A major study from Sweett Group has now shown that by using premium insulation, it is possible to reduce wall thicknesses and significantly increase lettable floor space within commercial properties. This can lead to a massive return on investment (ROI) on the additional cost of the insulation.
SWEETT GROUP STUDY
The study uses a database of 7,290 buildings, representative of commercial properties across Britain.
Sweett Group then compared the effects of installing low and premium performance insulation in four commonly used wall constructions: brick and block, timber frame and two ventilated rainscreen constructions.
The model considered a wide range of physical and financial building characteristics such as building use, floor to wall ratio and rental income and yield based on locations across Great Britain.
For each scenario, a comparison was made between the two insulation options, both designed to achieve a U-value of 0.22 W/m².K.
The construction width and cost for each build-up was entered into the model, and the ROI for the premium option was then calculated by dividing the added cost of the insulation, by the value of the additional space created in terms of rental income and yield.
As would be expected, the study showed an initial rise in projects costs of between, 0.1% and 1.89% for the overall development. However, despite these increases, the modelled results for the database properties showed that an overwhelming ROI could be achieved with the premium solution.
In total, 92% of the buildings analysed showed a positive ROI, with 51% of buildings showing an ROI between 200% and 1,000%, and almost 1 in 5 displaying an ROI exceeding 1000%.
To verify the results from the database properties, Sweett Group also analysed ten real non–domestic building case studies, from different sectors and locations, on which it had provided cost consulting services in the last 24 months.
The case studies include a Cat-A, low rise business centre on the outskirts of Edinburgh. The £1.42 million development shares its site with some existing agricultural buildings, and to complement its surroundings has been constructed with a cavity brick and block wall construction.
For the case study, Sweett Group compared a premium insulation specification, which partially filling a 115 mm cavity, with a glass mineral fibre build-up.
Whilst the premium specification cost an additional £6/sq.m, it also reduced the wall construction by 40 mm.
As a result, a further 9.90 sq.m (106.56 sq.ft) of internal floor space was made available, providing an estimated rental value of £1047.00 per year and a capitalised value of £13,703.00, a return of 103% on the cost of the insulation.
In fact, all ten case study buildings showed a positive ROI of as much as 1,645%.
MAPPED OUT
Since the initial research programme, Sweett has extended its study further to look at regional trends across Great Britain based on postcode areas.
The study breaks the office sector down into several groups including: city offices, regional offices and office towers.
The results in the Edinburgh and Glasgow postcodes were exceptional with returns of above 500% shown in all three maps.
LOOKING FORWARD
2015 has been another strong year for commercial property investment in Scotland and it is important to ensure that this momentum is maintained by maximising lettable space and returns.
Premium insulation products offer a simple route to delivering this whilst maintaining compliance with the tough new carbon emission requirements within the Building Standards.