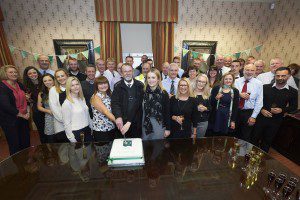 HIGHLAND charities will receive a pre-Christmas boost of £10, 000 as Tulloch Homes launches its 90th anniversary celebrations.
The largest housebuilder in the Highlands plans to roll out a series of initiatives to benefit the local community over the next 12 months,
Chief executive George Fraser said, "Our 90-odd salaried employees in Inverness will receive an extra £90 in their next pay packet which we are asking them to donate to a charity of their choice. This is a small contribution to assist the Inverness and Nairn communities as we celebrate this significant anniversary,
"As our celebrations roll out, we're keen to do something positive for the area whose people have been such excellent customers of ours down the decades. In turn, we've offered well-paid employment to so many as well as sustaining a range of local sub-contractors.
:"Quality people and quality product have been the recipe which has taken the Tulloch name forward since late 1925. In celebrating this milestone, we're also looking ahead, investing and planning to carry the brand forward to our centenary. Tulloch started as a small joinery business in Nairn and it's great to see that after 90 years we still retain joiners, painters and plumbers on our books.
"Tulloch Homes is in first-class shape going in to the New Year and will continue to play a significant part in the local economy going forward as well as investing in new apprentices."
Two of the longest serving employees, both of over 30 years, cut the anniversary cake along with Jenny Dickie, of the payroll department, their youngest employee who joined Tulloch in spring of this year. Sharing the cake duties with her were sales director Lynne Boyd plus site manager John Philip, who is retiring at Christmas but who will return to Tulloch on a consultancy basis.