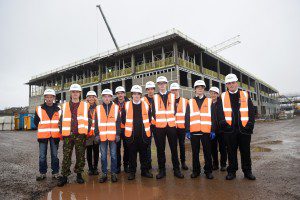 YOUNGSTERS with a passion for construction have been able to witness a live project in action thanks to a collaboration between Robertson Tayside and the Prince's Trust.
Around 16 teenagers from schools in both Dundee & Angus enjoyed the visit to Forfar Community Campus, which was made possible thanks to the 'Future Starts' programme. They were shown around the site – which will feature a new state-of-the-art school and leisure facilities – and took part in a youth build activity getting hands-on with both brickwork and joinery.
Kevin Dickson, regional managing director, Robertson Tayside, said, "Forfar Community Campus will make a dramatic difference to the lives of people in the area so it made perfect sense to bring pupils with an interest in construction to see the ongoing work."
Future Starts is a Prince's Trust initiative aimed at young people between the age of 15 and 18 who are still at school but looking to leave in the near future. It provides an introduction to various sectors to allow them to try their hand at the skills required before deciding if construction is something they would like to pursue further.
James Hopgood, programme executive, Future Starts, added, "The Prince's Trust's Future Starts programme is giving secondary students, who may be at risk of not reaching their full potential, an insight in to the different local employment industries. Partnering with Robertson Tayside has proved a great success, as their existing links with organisations such as the CITB and the local college will prove vital for those students interested careers in the construction industry."
In addition to the site visit and youth build activity, the school pupils also heard from the CITB who outlined routes into the industry including potential options for apprenticeships and work experience.
Mel Shepherd, construction careers adviser, CITB, said, "This type of event is a fantastic opportunity for students to see and hear first-hand what type of work is carried out on a large construction site. The CITB presentation covers all aspects of the built environment sector from Design and Management to Craft careers and also gives the students an opportunity to ask questions on the construction sector."