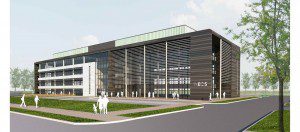 INEOS has chosen BAM Construction as preferred bidder for its new headquarters on Inchyra Road. The project is part of INEOS' ongoing development of its1,700 acre site in Grangemouth.
The £17 million, building, designed by Michael Laird Partnership, will have four storeys comprising 6,863m2 in total. Work has already started on site and is scheduled for completion in the final quarter of 2016.
Douglas Keillor, regional director of BAM Construction in Scotland said, "We are delighted to have been selected by such a blue chip organisation as INEOS to deliver this important part of its Grangemouth masterplan. Given that most of our projects have a long development stage; it's a nice change to be getting down to work straight away with a client that already knows exactly what they want."
BAM was awarded the contract following a competitive tender.
INEOS is one of the world's largest chemical companies and operates 65 petrochemical plants. Grangemouth is its largest facility and 1,300 people are employed on the site.