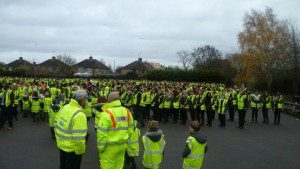 Balfour Beatty, in partnership with Abbeyfield Secondary School, has broken the Guinness world record for most people wearing high-visibility vests.
1543 people beat the previous record (1475) by 68 people. The achievement was held to help raise the profile of this year's national Road Safety Week.
The record breakers included Balfour Beatty employees, Abbeyfield School students and staff, Balfour Beatty supply chain colleagues from A-Plant and Greenhams, members of Northamptonshire Police and students and staff from the local primary school, Queen Eleanor.
As well as the record breaking event, Balfour Beatty hosted presentations on the importance of road safety and a road safety signage competition for students with the winning signs to be used on Balfour Beatty sites.
The record breaking attempt was inspired by the memory of 13 year old Sophie Bywaters, an Abbeyfield School student who was tragically killed crossing the road whilst returning from a Youth Club in 2009.
Dean Banks, Balfour Beatty managing director UK Construction, said, "We're proud to support Road Safety Week and have done so for several years with a wide range of events in schools, service stations and supermarkets throughout the UK. The safety of the public and our workforce is always Balfour Beatty's primary concern and through our zero harm initiative we strive to ensure everyone goes home safe every day. We use Road Safety Week as a platform to highlight to our employees and the local communities in which we operate, the importance of road safety and awareness."
Balfour Beatty has held events from Exeter to Glasgow as part of Road Safety week.