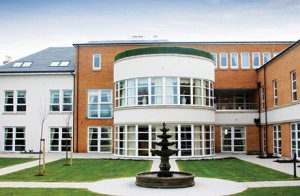 A newly opened luxury care home for the elderly in Ayr has benefited from more than 200 stylish windows and doors.
Specialist commercial fabricator Walker Profiles supplied and installed them in the hugely versatile REHAU TOTAL70R system.
Templeton House is situated in a conservation area in the coastal town and successfully blends historic and contemporary design, with a traditional villa façade retained alongside a new modern pavilion.
Motherwell-based Walker Profiles were chosen for the project by main contractors Cruden Building and Renewals who had worked with the company previously and were confident that their team could meet the challenging aspects of the design by Robert Potter Architects.
This included the fabrication and installation of two sets of large multi-faceted bay windows on both the ground and first floors of the new pavilion.
Throughout the project, Walker Profiles has installed windows in the innovative REHAU TOTAL70R fully reversible window system. This system has a flush fitting sash and frame with slim sightlines which suited this contemporary setting, as well as being practical in terms of cleaning and ventilation.
REHAU TOTAL70R is also a multi-chamber profile which means it offers high levels of thermal performance, with the option of triple glazing if required.
At Templeton Care Home, Walker Profiles installed the windows in all 72 of the ensuite rooms arranged over three floors, as well as glazed external doors leading to the garden and patio areas.
Jim Gibson, managing director of Walker Profiles explained, "We are one of Scotland's leading fabricators of fully reversible windows, which remain a very popular choice across the region, particularly in multi-storey social housing. REHAU TOTAL70R has brought a new dimension to this area of our business however, because we can now offer architects and specifiers a stylish and more contemporary version of the fully reversible with applications in a much broader range of settings. In recent months, as well as installations like Templeton Care Home which blend old and new within a conservation area, we have also installed the windows in exclusive contemporary developments for mass market house builders."