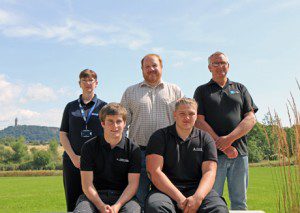 Project Scotland reports on a new initiative to tackle skills shortages and preserve historic landmarks
AS rising tuition fees for secondary education continue to price gifted students out of university places, younger generations are increasingly looking to practical, skills based apprenticeships and training courses for qualifications and future employment.
With an ever-widening shortage of skilled construction workers in the UK, and a particular shortage of those who understand and have the skills to repair and maintain traditional buildings, training initiatives like Historic Scotland's 'Skills for the Future' not only help tackle such shortages, but can also curb youth unemployment while preserving the historic built environment around us.
Managed by Historic Scotland and funded by the Heritage Lottery Fund, 'Skills for the Future' offers traineeships with traditional craft skill contractors and organisations throughout Scotland.
Rowen Baird and Scott Spence, two of the initiative's latest trainees, have been working with Stirling-based Andrew Miller Architectural Joinery on a range of refurbishments, renovations and repairs to historic buildings around the country.
Having now both secured places in Forth Valley College's SQA approved apprenticeship in carpentry and joinery, the trainee craftsmen will complete a four-year programme based in the college classrooms and workshops as well as out onsite.
Rowen, who has been training with Andrew Miller for twelve months, joined Skills for the Future full-time after helping Andrew in the workshop two days a week between college classes.
Discovering a passion for working with his hands, and a natural flair for traditional wood carving and letter cutting, Rowen decided to pursue a career in traditional craft skills and hasn't looked back since.
'Even if I wasn't on this training scheme I definitely would've wanted to be involved in an apprenticeship like this now," said Rowen.
"I think it's allowed Andrew to see if these kind of apprenticeships are viable as well, just to try it out.
"This scheme has helped him figure that out while giving us opportunities.
"I couldn't see myself working in an office. I'd rather be out there learning on the job than sitting behind a computer all day.
"It's amazing that you can just arrive at the workshop and then you're told, 'you're going up to Glengyle House' and that's your day.
"The next day you could be off to Cambusmore Estate."
"I'm a hands-on person as well," added Scott. "I couldn't imagine myself ever working in an office now."
Previously unemployed, Scott joined Skills for the Future after contacting CITB in search of training opportunities.
After putting him in touch with Skills for the Future and Andrew Miller, Scott has now been training with Andrew for three months and started his formal apprenticeship in August.
Having recently worked on Glengyle House, handcrafting and fitting 35 sash and case windows at the birthplace of Scottish folk hero Rob Roy MacGregor, both Rowen and Scott said their onsite experiences have made them more aware and appreciative of the rich historic built environment in Scotland.
"It's cool to think that you're working on a door that's over a hundred years old and that you're stripping it, restoring it and patching it and it's still that same door," Rowen explained.
"You're definitely more aware and when you're in the older buildings you've got more of an appreciation for them.
"I also think now when you walk around new build houses you actually start to pick up on some of the mistakes other people have made."
For Andrew Miller, 'Skills for the Future' is the first time his business has taken on young apprentices. Initially contacting Historic Scotland to bemoan the current skills shortage and lack of properly trained architectural joiners, Andrew then found himself in talks with Gillian Ferguson, Project Manager of 'Skills for the Future', before signing up to host trainees through the programme and eventually recruiting two new trainees.
"When we advertise for joiners, the amount of people that apply for the job that don't know anything about restoration and traditional buildings and building methods is scary," said Andrew.
"And really the only way our business can thrive is if we grow our own joiners.
"We've really got to train them ourselves so they can learn the skills from us and they're of a standard to work in these beautiful old buildings. Scotland's full of them and many of them are neglected.
"Loads are repaired badly and it's because the people doing the work on them have no training and they don't realise that in order to fix something you have to understand how it was built in the first place."
Enthused by Scott and Rowen's passion for the craft, their promising futures and the prospect of a new generation of professionally trained traditional craftsmen, Andrew already believes initiatives like 'Skills for the Future' can help change common perceptions of education and attract more young people into the construction industry.
"For a long time apprenticeships weren't really pushed at all," Andrew continued. "Schools were trying to drive kids into university and that doesn't really suit everybody.
"There are lots of people that come out of university and they never work.
"They're never able to get the positions that they've trained for and they end up doing something completely unrelated to what they've studied.
"This scheme, without a shadow of a doubt, got Rowen and Scott their apprenticeships.
"The day they walked through the door as trainees they weren't fit to employ as apprentices, and now they are.
"They've made that journey to becoming valued members of a team. They're going to be great apprentices and they'll come out with all their papers, ready to work."
"You will never ever be without a job if you're a decent joiner. It's a passport to work.
"There's always a need for good quality tradesmen."
With around 450,000 traditionally constructed buildings in Scotland, and a current skills shortage of 5,000 workers, it's imperative that Skills for the Future and the traditional craft skill apprenticeships that Historic Scotland offer throughout Scotland are encouraged and expanded.
Although apprenticeships are more commonly associated with large multi-national construction firms, with traditional construction workers so evidently required, specialist contractors like Andrew Miller Architectural Joiners should be further aided in finding and training future generations of conservation craftsmen.
Gillian Ferguson said, "To host a trainee or an apprentice is a huge commitment from an employer and we must appreciate the dedication to training of our hosts such as Andrew Miller.
"Without this commitment the skills that we desperately require to repair and maintain our wonderful built heritage could disappear."
As Rowen and Scott move out from Andrew's workshop and into Forth Valley College for the next four years of their careers, what are Andrew's thoughts on 'Skills for the Future' as its current phase nears completion? "It's definitely been a success, in that they're now employed as apprentices and they have a bright future.
"It's a result for everybody. It's a result for us in that in four years time there will be two young craftsmen who can carry on the tradition and keep things going.
"If you don't have that then old buildings get repaired inappropriately and it causes more damage than good.
"Once you lose built heritage, you lose it forever. It's gone. So you need people with a bit of passion."