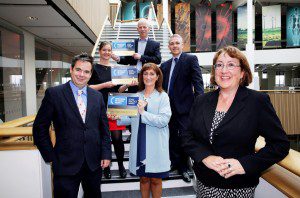 THREE Glasgow-based construction firms have been recognised for their commitment to employing young people, by being rewarded with the Investors in Young People (IIYP) accreditation.
CCG (Scotland) Ltd, Milnbank Housing Association and GMG were all presented with the gold Investors in Young People (IIYP) accreditation by Scottish Minister for Youth and Women's Employment, Annabelle Ewing.
An initiative from Investors in People Scotland, the IIYP scheme is supported by £1 million funding from the Scottish Government. To mark the accreditation Ms Ewing visited Strathclyde University's Technology and Innovation Centre to meet some of the talented and ambitious young people who are employed by each firm to hear about some of the training and recognition they have received. The Minister commended all firms for their commitment to young people and strong focus on creating employment and training opportunities in Scotland's construction sector. 
Ms Ewing said, "To date, more than 180 organisations have become an accredited Investor in Young People in little over a year since the launch of the award. This speaks volumes about the seriousness afforded to youth employment in this country and builds on recent progress on our youth employment strategy. I am very pleased that three significant players in Scottish construction have joined the ranks of firms that are investing in young people and gaining recognition for the training and employment opportunities they are offering. Developing their young workforce makes good sense both for the future success of these companies and for the economy of Scotland." 
Gary McGregor, group managing director of CCG said,  "As a business, we are committed to supporting skills development in the construction sector and recently completed our annual apprentice intake creating 14 new positions across a number of construction trades. Apprentices represent 10% of our workforce and it is fantastic that our work is recognised through securing IIYP gold accreditation today."
Gerry McGinn, director, GMG Group, added, "To receive any award is always a tribute and confirmation for the entire team that we are doing things the right way. The whole of the GMG Group, management and admin staff, together with our professional trades people on site, who take the time to support and guide all of our young apprentices ensuring they are trained the right way, make this gold award special."
Linda Sichi, depute director from Milnbank Housing Association added, "The Association is delighted to receive IIYP Gold Accreditation, especially as we are the first housing association in Scotland to do so. Our young employees play an important role in our business and we will continue to support and encourage them to develop."