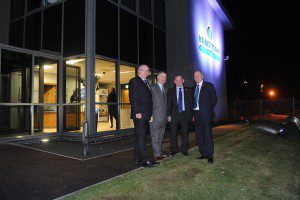 THE Robertson Group has expanded its Tayside operation with the opening of a new office, in response to a thriving work book and increased staff numbers.
Robertson Group officially opened Robertson House in Dundee, which will home 56 staff across its construction, facilities management and special projects divisions.
The expansion of Robertson Tayside comes during a significant period of growth for the group, which celebrates its 50th anniversary next year.
Robertson Group founder and executive chairman, Bill Robertson CBE, said, "While Robertson Tayside's new office is based in Dundee, in opening Robertson House we have made a firm commitment to the communities of Tayside, Perthshire, Angus and the wider area. With a focus on creating a strong, skilled local workforce and vibrant construction sector across the east coast, Robertson Tayside has become a significant part of our growth plans.
"We have started on a very firm footing with more than £122million of work underway already, however this is not the end of our ambitions and we look upon our success so far as offering a very solid platform for further growth. With a further £120 million of work in the pipeline and £50million of potential work identified by our team, we are already on course to deliver this."
Among the contracts already being delivered by Robertson Tayside are the £30million construction of a new campus for Harris Academy in Dundee, the £25million Brechin Community Campus project and the £15million refurbishment of Perth Theatre.
Derek Shewan, chief operating officer of Robertson, added, "We have a long history in Dundee, Tayside and the wider area, including building and maintaining six primary and two secondary schools for Dundee City Council. However, the opening of our latest office in Dundee, Robertson House, is a significant milestone for the company."
The Stirling-based Robertson Group, which employs over 1,600 people across the UK, is now in the final year of a five-year plan, which has seen it straddle the recession and produce double-digit growth despite the challenging business environment. In March, it had announced its turnover had increased by 20 per cent in the last financial year to £300million – and was on track to double that figure over the next three years.