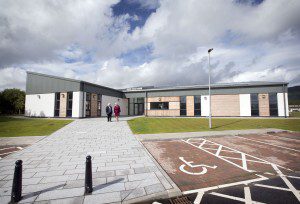 Highlands and Islands Enterprise (HIE) Chairman Lorne Crerar and Chief Executive Alex Paterson recently marked the formal handover of a new building at Sandbank Business Park.
The new facility, developed by Highlands and Islands Enterprise, is designed to attract new businesses to the area and will enable local businesses to achieve their ambitions for growth.
Douglas Cowan, HIE area manager for Argyll and the Islands, said, "Dunoon is one of Argyll's key towns and its economic success is vital to the wider Cowal area. The town's proximity to the central belt presents a major opportunity. Availability of competitively located, affordable and digitally enabled office accommodation is essential in order to capitalise on this opportunity. The new facility at Sandbank has been designed to be flexible and accommodate the needs of different types of businesses. There is also scope for further expansion if required. Now that we have this facility available we will use it as part of our portfolio when marketing the area to potential inward investors over the next few years, as well as to local firms looking to expand."
The industrial estate and business park at Sandbank is the main commercial focus in Cowal outside Dunoon town centre, and HIE has invested in progressively developing the site over a number of years.The 724 square metre development was constructed by Keir Construction, who were appointed by HIE to build the new premises.
Brian McQuade, managing director of Kier Construction's Scotland and north-east England business, explained, "We worked closely with Highlands and Islands Enterprise to ensure the successful completion of this custom-built new business facility, which is set to attract a raft of new investment and enterprise to the area. We approach all projects with a commitment to the local area and this latest development was no different;  we engaged with the local community, workforce, suppliers and subcontractors, all of which helped to make this project a great success.
"This is an exciting time for Kier Construction with ongoing activity gathering pace across Scotland. With our position on the Highland and Islands Enterprise prime contractor framework, we look forward to undertaking similar projects for the agency across the region in the coming years, further illustrating our commitment to the area."
The new premises are particularly suited to growing companies specialising in IT, finance and business services; whilst part of the premises will work well for light manufacturing and similar uses.
HIE has invested nearly £2 million in the new facility, including £786,000 from the European Regional Development Fund (ERDF). It is capable of hosting up to 46 employees and can be used as five individual units or fewer larger units according to demand.