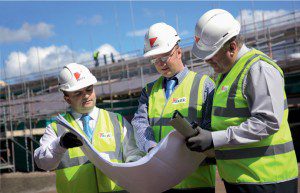 Kier Construction has been appointed as the construction partner to progress the next stage of a comprehensive backlog maintenance programme at Aberdeen Royal Infirmary.
The work will focus on the redevelopment of the accommodation above the main entrance to the Infirmary to convert the existing ward accommodation into a dedicated ambulatory care facility. Kier will initially work with technical personnel in NHS Grampian to present a deliverable and affordable work programme for consideration by the NHS Grampian Board and following approval will manage and deliver the build programme.
Construction is expected to commence in around a year's time. The announcement follows a number of recent healthcare contract wins for Kier, including its appointment by hub East Central Scotland to undertake work on the new Doune medical centre.
Sean O'Callaghan, area operations director for Kier Construction, said, "This deal illustrates our capabilities across significant healthcare projects throughout Scotland and further cements our position as a leading player in the north-east of Scotland. This is a significant investment by NHS Grampian, which has recognised our skills and expertise. Not only will this development help support healthcare within Aberdeen city, it will also lead to job creation and learning opportunities, helping to support both the local and Scottish economies. It is a project we are pleased to be working on as we maintain the positive momentum shown during 2015."
Graeme Smith, NHS Grampian director of modernisation, added, "This project is one of many significant pieces of work set to be undertaken during the course of the next five years. NHS Grampian is set to invest more that £150m to keep moving forward and we have worked with patients, staff and the general public to make sure that work undertaken supports the people of Aberdeen for generations to come."