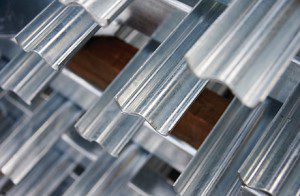 With 4% of the world's GDP estimated to be lost each year to corrosion, there is no doubt that sourcing appropriate protection from the elements is essential for the steel industry. Hot dip galvanising – where steel is coated in molten zinc to provide a long-lasting, durable surface – is the coating of choice for many when it comes to protecting steel. Bob Duxbury, technical director of Wedge Group Galvanizing, explains the process of galvanising and its key benefits.
"STEEL is a vital raw material used in a variety of construction, architectural and engineering projects worldwide, but unfortunately it is also highly prone to corrosion if it's not properly protected.
"According to the Galvanizers Association, the volume of rust damage is staggering, with one tonne of steel turning to rust every 90 seconds around the world.
"Zinc, which plays a pivotal role in the galvanizing process, is a raw material that is widely-abundant, found in many places including rocks and soil, as well as plants, animals and the air that we breathe.
"The process of galvanizing involves steel being dipped into molten zinc at temperatures up to 450oC, where a series of zinc-iron layers are formed by a metallurgical reaction between the iron and zinc – a reaction that creates the protective coating.
"And zinc's non-ferrous properties enable it to be recycled again and again without any loss of its physical or chemical properties. The process of galvanizing really comes into its own when it comes to sustainability, with a single treatment able to coat a product inside and out, and waste materials being minimised by keeping excess zinc in the galvanizing bath to be reused. Not only that, but it can protect steel for up to 60 years or longer, if the conditions are right, and even in the harshest of environments it can last two or three decades.
"As a result, the whole life costs of products protected by hot-dip galvanizing can be significantly reduced because there is no need for expensive down-time and the inconvenience of repeated on-site maintenance and repair –  an appealing aspect for many construction companies, builders and architects who want completed projects to be long-lasting, durable and cost-efficient."
The past few months alone has seen Wedge Group Galvanizing showcase how diverse galvanizing can be – the group's Glasgow-based plant, Scottish Galvanizers, was recently called upon by ECS Engineering Services Ltd to help protect the historic Romney Lock situated on the River Thames. The project saw it galvanize over 28 tonnes of steel for the four heavy duty gates, which were originally made from oak wood and later rebuilt by the Thames Conservancy.
Due to the size of the gates, each measuring at 4.7m in height, 6.2m in width and weighing 7 tonnes each, Scottish Galvanizers was contracted by the firm as it was the only galvanizing plant in the UK to have the appropriately-sized headroom facility to accommodate the fabrications.
Scottish Galvanizers also played a pivotal role in the construction of a helipad at the new £multi-million Southern General Hospital, seeing it galvanize the structural steel used to create a helideck on the roof.
The 14-storey facility is the location for one of four new trauma care units in Scotland, with the helipad enabling the hospital to admit air ambulance patients who require urgent emergency care.
Martin O'Neil, business development manager at J&D Pierce, who commissioned Scottish Galvanizers for the helideck project, explained, "It was paramount that the correct protective treatment for a long-life was applied and galvanizing was chosen by the design team as the optimum solution for long term protection and robustness during installation. The operations had to be carefully planned to ensure the stability of the frame was maintained during stages of erection, and our close relationship with Scottish Galvanizers ensured that the fabricated components left the plant in good time and order."
And to support the increased demand of galvanizing across a diverse range of industries – from construction and architecture, to hospitality, leisure and tourism – Wedge Group Galvanizing has invested millions of pounds in its 14 plants across the UK, with Scottish Galvanizers in particular recently installing two of the country's largest acid pickling tanks at its site in Glasgow, aimed at reducing customer lead times and increasing workload.
For further information about Wedge Group Galvanizing, please contact 01902 630311 or visit www.wedge-galv.co.uk.