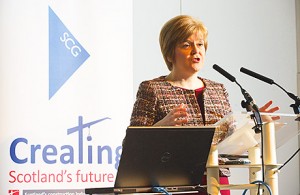 FIRST Minister Nicola Sturgeon has vowed that the Scottish Government will "leave no stone unturned" in its efforts to keep steel plants open.
Ms Sturgeon visited two Tata Steel sites at Dalzell and Clydebridge following the news that the firm plans to mothball the sites, putting 270 jobs at risk.
A task force, chaired by Business Minister Fergus Ewing, has been established to seek a "viable alternative" for the sites.
Ms Sturgeon and Tata Steel agreed that the firm would work with the Scottish Government's taskforce to seek the continuation of steel manufacturing on the sites by identifying a buyer.
She also confirmed that modern apprentices employed on site would have their off-the-job training guaranteed should there be a gap in their employment.
Ms Sturgeon said, "The announcement that the steel plants at Dalzell and Clydebridge are to be mothballed has been extremely distressing for the workforce and it was important for me to visit the sites today to hear first-hand their perspective on this difficult situation.
"The quality of the work done at these sites is outstanding and it is clear that all of the workers have a great deal of pride in what they do. I was struck by the determination of everyone on site to keep these plants open and I was able to reassure them the Scottish Government will leave no stone unturned in our efforts to help them do that. The task force I announced is an important starting point in those efforts. It will bring together a range of people, including unions, local authorities, politicians and other agencies to focus on identifying new owners, maintaining the operation and retaining the highly skilled jobs. I am delighted we have been able to agree with the company that they will support the Scottish Government to try and find a buyer.
"The taskforce will also consider wider support for the workforce at this difficult time, including what can be done to ensure that the modern apprentices employed on site do not have their education affected.
"To that end, I am happy to confirm that as an early step, the Scottish Government will guarantee the MAs employed here will be able to continue with the off the job training required to complete their apprenticeship should there be a gap in their employment. I firmly believe there is a future for steel manufacturing in Scotland and nothing I have seen today has diminished that opinion. Together with the workforce, unions and others, the Scottish Government will continue to take every action to secure the future of this industry."