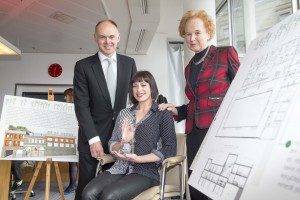 Hannah Heaton has been named as the first ever recipient of 'The Derek Mickel Architecture Scholarship'.
Launched by Mactaggart & Mickel Group in conjunction with The Glasgow School of Art, the scholarship pays tribute to the Group's late chairman Derek Mickel's lifelong connection to design and passion for nurturing young talent.
After submitting a strong application, comprising a personal statement and proposal for a 'Home of the Future', Hannah (30), who is originally from Fife and is now based in Glasgow, was confirmed as the successful candidate.
Her outlook on how social awareness and eco-friendly building processes could be brought together to positively affect happiness were applauded by the panel, and Mactaggart & Mickel Group found her approach to be inspiring.
"My idea for a 'Home of the Future' came from a documentary I once saw that highlighted how community co-housing can positively affect a person's happiness," Hannah explained. "I found it all to be fascinating and ended up using it for a project in my studies. It was the perfect idea for my scholarship entry as it represents everything I aim to achieve in life; I want to make a difference and do something for society which is going to be beneficial for years to come.
"Attending The Glasgow School of Art has always been a dream of mine, so much so that I actually only had one back-up course at another university. Being a single mum, I didn't know if I would be able to turn that dream into a reality. It can be quite hard being on your own but the scholarship has made all of this possible and I can't thank Mactaggart & Mickel Group enough for their support."
Hannah previously studied at Edinburgh College, achieving an HND in Interior Design. As the first scholarship recipient, Hannah will now be fully funded throughout her programme of study in Architecture for two years*. She will also be welcomed into the company's office to undertake work experience.
Andrew Mickel, director of Mactaggart & Mickel Homes and son of Derek Mickel, said, "Celebrating my father's vision and passion for architecture, this scholarship aims not only to support students but also inspire them. We recognise and appreciate the knowledge and skill required by architects – providing support to the future generation is an honour and something we consider to be a responsibility. Hannah is an exceptional young professional with a bright future ahead of her. I'm so pleased we are able to help on her on her journey to success and I'm looking forward to welcoming her into the office as she undertakes her internship.
"My father would be so proud – I hope this is the start of a lasting legacy for many future generations to come."
Professor Christopher Platt, Head of the Mackintosh School of Architecture at The Glasgow School of Art, added, "Hannah is a great catalyst in the architectural design studio, and is someone who is energetic, gregarious and talented.  Her personal drive and ambition has brought her to the Mackintosh School of Architecture and she is a worthy recipient of the Derek Mickel Scholarship.
"I'd like to thank Mactaggart & Mickel Group for their generous support in establishing this innovative scholarship which will nurture emerging talent in subsequent generations."