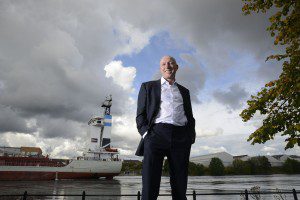 THE sole UK supplier of Econic, a robust new fire-resistant building board, is making significant inroads into the construction industry with a portfolio of specified-led work which it anticipates will add £500,000 to sales in the next 18 months.
Glasgow-based Duncryne Ltd, which imports Econic, an engineered Magnesium Oxide (MgO) board, has been specified to supply material for the West Midlands Schools programme in Birmingham following a succession of high-profile projects in Scotland.
The new work follows increased awareness among manufacturers and designers that the MgO board's fire resistant, acoustic, structural and hygrothermal performance creates opportunities for leaner and more efficient system-led applications.
Keith Macnair, managing director of Duncryne, explained, "There is strong evidence that specifiers and contractors are starting to appreciate the Econic MgO qualities in regard to the safety and performance advantages – which traditional materials cannot offer. We anticipate that our market share will increase as a consequence."
Duncryne imports Econic MgO boards from China, where it has a sister company in Shanghai. Since it started trading in 2013, it has won prestigious orders in such high-profile buildings as the new £842 million Queen Elizabeth University Hospital in Glasgow and the Technology and Innovation Centre at Strathclyde University.
It has supplied panels at recently re-furbished Haymarket station in Edinburgh, as well as Queen Street and Central Stations in Glasgow. Econic board has been installed in student accommodation and at Braehead's Ferry Village in Glasgow.
Now the company, which has storage and distribution facilities in Renfrew and Birmingham, has won a major contract to supply Econic board to 24 schools in the Midlands, to be used in external SIPS, render carrier and internal corridor walls.
Econic was used as external sheathing for a high-density residential development being constructed on the South Bank of the Thames in London for FTSE-listed, Surrey-based housebuilder Berkeley Homes. Duncryne has also supplied pre-cut, Econic board for fire protection and lining to electrical switchgear for a tunnel project at the exhibition centre in Birmingham. This offered significant commercial savings to the project due to the onerous fire criteria.
Mr Macnair added, "The board's robust qualities complement its technical performance. It is lightweight, non-hazardous, weather-resistant, will eliminate waste and mitigate damage in transit. We see the development of system-led solutions with off-site manufacturers as a main focus for business growth. We are making significant inroads into the most active areas of the UK market and we can also deliver anywhere in Europe and the Middle East."