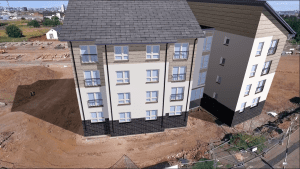 The demand for properties at one of Glasgow's most sought after affordable housing developments has led to the early sales launch of a raft of new homes.
Phase two of Cruden Homes' King's View development in the south side of the city will now take place six months earlier than planned, over the weekend of Saturday 31 October and Sunday 1 November. The second sales phase will see the release of the remaining 28 new and affordable homes to meet the demands of Glasgow's buoyant housing market.
The launch will take place from 12noon – 4pm over both days, with an independent financial adviser on hand to provide impartial advice to potential buyers.
The phase one sales launch saw all but two of the properties snapped up in a matter of a weeks, illustrating strong demand at the King's View development; situated on the periphery of King's Park, close to Hampden Park and only two miles from Glasgow City centre.
The second phase release, which comprises 28 properties, will be made up of two and three bedroom semi- detached houses and 2 bedroom en-suite apartments with two new showhomes ready for viewing in the spring.
On the announcement that sales activity is to be brought forward, Liz Mallon, Sales and Marketing Manager for Cruden Homes, said: "The phenomenal appetite for these affordable homes in the desirable South Side of Glasgow has been the key driver for bringing forward the next phase of activity.
"We undertook thorough research before bringing this development to market so we knew the desire was there. People are beginning to realise especially in regeneration areas, that buying can be cheaper than renting, with new home owners taking a particular interest in the King's View site.
"Kings View has received an incredible reception and even before work began on the development, we had hundreds of people registering their interest online. The demand for new affordable homes in the area is exceeding expectations – we've already taken reservations on 25 of the 27 homes available off-plan from new homeowners who are taking advantage of buying at this early stage.
"We're thrilled to announce the early release of Phase 2, six months earlier than planned and we look forward to the next phase of activity as we continue to grow and build a new and thriving community in the South Side of Glasgow."
Those reserving will have the unique opportunity to view their new home from initial build stage through to completion. Called 'My Kings View', each new home owner will be given their own unique code to allow them to capture the build journey of their new home, helping to visualise their new home and create memories before they have even moved in.