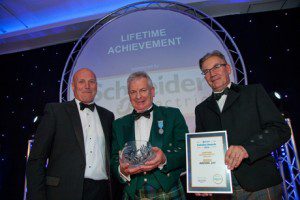 It was another year of sparkling success for the big winner at the prestigious awards ceremony hosted by SELECT, the campaigning trade body for the electrotechnical industry in Scotland.
Crown House Technologies, the offsite manufacturer from Motherwell, repeated its incredible run of triumphs by taking the Electrical Contractor of the Year accolade – an award it also won in 2013 and 2011.
As in those years, the long-established company was also garlanded with other awards – in this case, winner of the Best Electrical Safety Project category and as a runner-up for the Best Use of Training and Best Environmental Project.  
Newell McGuiness, SELECT MD and Director of the SJIB, said at the glittering gathering at the Radisson Blu in Glasgow, "Crown House Technologies just keeps on winning – and for all the right reasons. The company consistently operates at the leading edge of the electrical contracting industry and it continually enhances the reputation for quality, craftsmanship and excellence that Scotland's electrical trade has earned and maintained.
"The SELECT Awards for 2015 are all about recognising top performers and once again we have been astounded by the response from companies throughout Scotland. Every one is a worthy winner."
International companies and small family firms, from the cities and from local communities, shared in an evening of glamour and excitement as accolades were awarded to respected winners, as well as the future of the trade – apprentices.
 Other awards were:
· Best Small Contractor, won by brand and customer service-aware Edinburgh electrical firm Ideal Electrical Solutions;
· Apprentice of the Year, won by Josh Graham, from Kilbirnie, who works for Balfour Beatty Engineering Construction and is now aiming for the managerial side of the industry;
· Best Use of Training, won by Elgin company NES (North Electrical Services) Ltd, in recognition of its first class training programmes for its staff;
· Best New Product, won by Aico, for its revolutionary AudioLINK™ carbon monoxide alarm product;
· Best Promotion of Certification, won by the Edinburgh-based CableCom Group, for unfailingly applying the highest standards;
· Best Environmental Project, won by Clydebank firm Campbell & Kennedy for helping Renfrewshire Council meet its green targets;
· Best Electrical Safety Project, won by Crown House Technologies of Motherwell for creating a best practice high voltage installation at Scottish Power's HQ.
· Best Delivery of Customer Service, won by RAS Crockett & Partners Ltd of Dundee for demonstrating pride in doing a first class job for the people in its local community.
A Lifetime Achievement award, sponsored by Schneider Electric was also made to Archie Jay, of the venerable electrical engineers Aird, Walker & Ralston, founded in 1919, who was presented with the award in recognition of the immense contribution he has made to the sector over many decades.
During Archie's unique career, he has been chairman of his local SELECT branch, a member and chairman of the association's technical committee and he was a member of the SELECT management committee and central board. He reached the pinnacle of his service to SELECT when he became President in 2001. A highlight for both him and SELECT during his time in office was the opening by the Princess Royal of the new purpose built headquarters of SELECT, The Walled Garden.