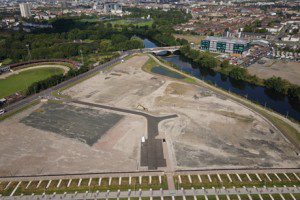 Clyde Gateway, the urban regeneration firm which has created an economic and social legacy for South Lanarkshire and the East End of Glasgow following the 2014 Commonwealth Games, is set to unveil new offerings to businesses and investors at MIPIM's UK property show. 
MIPIM UK, the UK's largest exhibition and conference for property professionals is held in Olympia, London between 21 – 23 October.  It provides a market place for UK operators and international investors to meet, discuss projects and opportunities and do business.
At the same event last year, Clyde Gateway launched its search for a development partner for its Shawfield development – the largest commercial and industrial planning consent in Scotland and the 11th largest in the UK.  One year on and Clyde Gateway will now set a closing date for Phase 1 of this exciting new development on the first day of the show (21 October).
With more than £1.5 billion invested over the last six years from both the public and private sector, Clyde Gateway has now become Scotland's newest business and commercial hub. Interest from investors and business partners continues to grow, illustrating the confidence shown in this upcoming area. Interest in its offering is expected to be high during MIPIM UK, with Clyde Gateway also looking to secure a development partner for its Dalmarnock Cross site beside the new £14m train station.   
The major new development opportunity will include hotel, commercial, retail and residential plots all within minutes of Glasgow City Centre. This follows a busy year of activity which has cemented Clyde Gateway's credentials as the place to do business. It recently sold its Riverside site to Link Housing, one of the largest social landlords in Scotland working across 26 local authorities. The site, at the former home of the Dalmarnock Power station in the east end of Glasgow will now deliver 550 new mixed-tenure homes
New opportunities will also be unveiled for Clyde Gateway East – a development of a formerly vacant and derelict 14 hectare plot adjacent to Junction 2A of the M74.  Several energy firms have already relocated to this business park and initial discussions on potential tenants for further plots 1-4 will be outlined.
Ian Manson, Chief Executive of Clyde Gateway said, "It is essential  to attend events such as MIPIM UK to hear industry trends,  and meet those looking to invest.  We are pleased to attend this year's event following an impressive year to date. All our premises are built with businesses in mind with Clyde Gateway providing the perfect platform to take advantage of market opportunities, whatever the sector. From energy companies at our Clyde Gateway East site, to creative companies taking advantage of our custom built facility – The Albus, in the heart of Glasgow, it is clear that we have a fantastic offering for businesses and potential investors alike.
"The area comprises the very best in transport links, fantastic business facilities and an interlinking network of community groups, infrastructure, superfast broadband and cross-sector businesses, making it a prime destination to do business. We are confident that the continued interest and the ever increasing investment opportunities that arise will continue to offer a good return for investors while supporting the ongoing community regeneration for years to come."