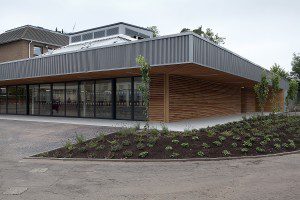 CCG has carried out a project to double the capacity of the junior school dining hall at the prestigious George Watson's College in Edinburgh.
The three month renovation project was delivered to improve the dining experience for pupils, rationalise the kitchen and catering facilities and provide additional facilities for wraparound care and meetings.
Melvyn Roffe, Principal of George Watson's College said, "Our new junior school dining room has been an excellent addition to our campus, providing light and attractive facilities for pupils to enjoy their lunch and for our After School Club. CCG were outstanding construction partners for the project, delivering all that they promised and more – and bringing the project in on time and on budget."
CCG has experience in the education sector having recently been involved in a number of projects including a new teaching block at Dollar Academy and the construction of the new Libberton Primary School and Abington Primary School as part of South Lanarkshire Council's school modernisation programme.
Calum Murray, Director of CCG added, "We are delighted to have worked with George Watson's College to improve student dining facilities while sympathetically retaining the surrounding historic campus."