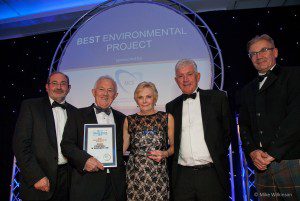 Campbell & Kennedy picked up the prize for Best Environmental Project at the SELECT industry awards.
The SELECT Awards are dedicated to upholding and celebrating the highest standards in the electrical industry with catego ries covering a wide range of disciplines and services.
This year was the 10th anniversary of the Awards and was the biggest and best event yet with a broad spectrum of electrical firms being honoured. Apprentices, who represent a very important part of the future of the electrical industry in Scotland, were also honoured on the night.
Campbell & Kennedy was recognised for its delivery of solar PV installations to care homes and schools for Renfrewshire Council. These installations have not only contributed towards the Council's Carbon Reduction Commitment, but the company also delivered training for Renfrewshire's energy team and assisted with the schools Eco Schools Programme by delivering educational workshops on renewable energy for school pupils.
The company has also this year been awarded ISO 14001 certification as well as becoming a Zero to Landfill Company.
Jason Lowey, Head of Energy at Campbell & Kennedy said, "We are over the moon at this award. We have worked extremely hard to not only deliver renewable energy projects to help clients in the most environmentally friendly way possible, but have also invested a lot into reducing our impact on the environment thanks to our Environmental Manager, Robert Baird.
"We have built up a great relationship with Renfrewshire Council, for whom we delivered this project, and will continue to help other local authorities with their green energy needs."