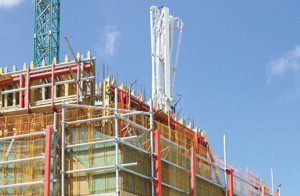 THE third largest technology start-up cluster in the world, Silicon Roundabout, is undergoing a major transformation. A 16-storey tower to be placed at the epicentre of London's Tech City, the White Collar Factory is set to include campus buildings containing offices, retail and residential, as well as a new public square.
The daring build is using Concrete Core Cooling as its primary method of conditioning the office environment. The modern technology uses cooled slabs to provide radiant cooling and thermal mass to absorb heat generated in the office from computers, lighting and people.
Dunne Group was specified as sub-contractor for the project to ensure a smooth progression during construction of the tower, including the top-down construction of the basement, the large core construction and in-situ concrete tower.
Dunne Group called upon PERI Ltd to supply the formwork for the site, after successfully working together on projects including Westport House in Edinburgh and the Dundee City Council HQ building. The project utilised a wide variety of systems running concurrently and PERI tailored a range of its climbing systems specifically for the construction.
Responsible for the construction of the three cores – Main, North and South – the White Collar Factory challenged PERI due to its complex and unique shape, meaning two systems had to be tailored to run along the outside of the build. PERI utilised a mixture of both Rail Climbing System (RCS) and Automatic Climbing System (ACS) platforms to the core walls, where the RCS was used internally with ACS external-facing, providing the project with an unusual use of equipment.
Due to its large size and tight cycle times the main core required the use of the PERI ACS climbing system to allow all platforms to be raised together and help achieve this.
However, with the North core being smaller and approximately five floors lower the structure allowed the more common RCS climbing system to be utilised effectively.
The White Collar Factory was the first project PERI had used pre-fabricated ACS platforms in the UK.
Mark Ruane, project engineer at Dunne Group said, "The quality of the formwork is absolutely crucial on this project as all the concrete walls and ceiling slabs are exposed in the finished building. We're also under tight time constraints, so speed and ease of positioning are key.
"There's been a lot of co-ordination during the design and assembly of the formwork systems due to the very specific architectural requirements. The finishes achieved so far have been very impressive and the climbing panels have been working well."