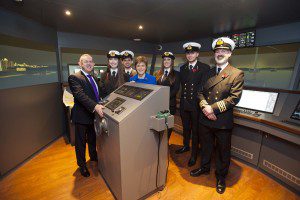 A new £66m "world-class campus with the wow factor" has been unveiled on the banks of the River Clyde.
City of Glasgow College's Riverside Campus was officially opened by First Minister Nicola Sturgeon, who met college staff and students during a tour of the campus. She said, "I am thrilled to be able to open the Riverside Campus of City of Glasgow College, which will provide students from around the globe with access to state of the art equipment and world leading training opportunities.
"Scotland has a strong maritime history and now 10,000 students a year will be able to come to the Riverside Campus to continue that proud tradition. This is an excellent example of our capital investment programmes at work. The Scottish Government is happy to have supported the construction of this new campus – part of a £228 million investment in the City of Glasgow College estate – and I look forward to visiting City Campus on Cathedral Street, too, when it opens next year."
Principal Paul Little was proud to welcome more than 250 guests from all over the world for the milestone event. He said, "This is a truly outstanding, world-class campus with the 'wow' factor. It represents a bold statement of intent by City of Glasgow College to lead the global maritime college community. Within that community, our Riverside Campus is now the most advanced of all colleges throughout the world.
"We are making a significant contribution towards to the renaissance of Glasgow's maritime industry. We have made a transformational difference with the opening of this new campus."
The Riverside campus is the first phase of a new £228m twin-site supercampus and was delivered on time and within budget. The City Campus site at Cathedral Street in Glasgow's city centre is currently under construction and is due to open in summer 2016. The supercampus is expected to serve up to 40,000 students and 1200 staff a year – the equivalent of six million users in its lifetime.
Barry White, chief executive of the Scottish Futures Trust, said, "SFT's vital role in the Riverside Campus led to many hundreds of construction jobs being created and the long-lasting legacy will mean many thousands of careers will be founded from the world-class vocational training delivered from this new, state-of-the-art college."
Laurence Howells, Chief Executive of Scottish Funding Council, added, "This fantastic new building and the Cathedral Street campus opening next summer will completely transform the experience of being a student for thousands of Glaswegians. For businesses and communities these investments make a strong statement about the future of the city and the part its colleges are playing in creating a strong 21st century economy."