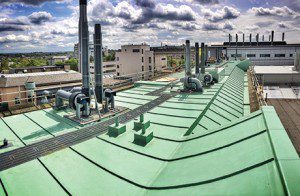 THE roof refurbishment of a historic University of Edinburgh building won the Single Ply Roofing category at this year's  NFRC National Roofing Awards.
The Joseph Black Building houses the School of Chemistry and the refurbishment project was completed by BriggsAmasco using a Sika Sarnafil membrane.
As the roof had come to the end of its natural life, Summers-Inman Construction & Property Consultants were appointed to survey the existing roof, provide solutions for replacement and procure the works.
The Sika Sarnafil system was demed to be befitting of the oldest building on the campus. The initial scope of the works covered a multitude of trades, the most complex of which was stripping more than 2000sqm of the existing copper roof coverings. As part of Sika Sarnafil's refurbishment offer, its surveyors conducted a comprehensive roof survey to determine which system was suitable for the roof. This included gutters, slopes, an outhouse and dormer roofs that presented new problems to overcome daily.
Sika Sarnafil Membrane S327-15EL in Patina Green was chosen to replace the old roof covering, as the local authority planning department advised that this product was an acceptable replacement on the listed building.
Work to replace the roof included installing a new timber taper fall once the copper roof was lifted, to improve drainage, which was then covered with the mechanically fastened Sika Sarnafil system. The membrane was applied with standing seam profiles to replicate the original copper roof details.
The building is home to many research and teaching laboratories for students and staff from all over the world.
This presented a further challenge, as it was stipulated that the building must remain operational throughout the works. BriggsAmasco had to effectively manage the project and make sure it was completed quickly and with minimal disturbance.
Raymond Wright, Glasgow branch manager at BriggsAmasco said, "Due to the time constraints, we had to work smart. As the main contractor we could apply the pressure to quickly develop, fabricate, install and weather details, as the stripping of the cooper roof progressed."
BriggsAmasco also had to integrate the new bespoke Sika Sarnafil outlets with existing lead and cast iron drainage system, working closely with Sarnafil Plus, Summers-Inman and the client to ensure the detailing was correct, approved and was in keeping with the heritage of the building.
"The integration of other trades and materials where all managed by us, including slate, lead and Sika Sarnafil products, working together as one," added Raymond. "With the ability to fully coordinate, design and install the roof came greater control and led to a quicker completion of the project, along with increasing the client's confidence in on-site finishes and weathering."
The job was finished within budget and with minimum disruption. A thorough final inspection as part of the Sarnafil Plus package saw the roof receive a 20-year single point guarantee.
George Boag, buildings and operations manager at the University of Edinburgh, said, "All parties worked as a team and delivered great results, which were in keeping with the building's heritage and we're confident will last for years to come."