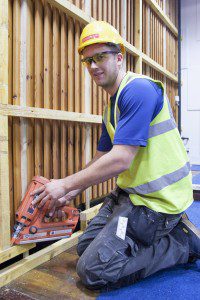 A young student has won an annual apprenticeship award for his "exceptional" work with a Galashiels company.
Arron Brunton (23) of Finlaysons – part of Esh Border Construction – has been named as the winner of the 2015 Bob Wall Merit Award for most promising Esh Group Apprentice/Trainee.
It is the Innerleithen man's second award of the year – Arron is studying Carpentry & Joinery at Borders College in Galashiels and was recently named its 'Best Advanced Craft Carpentry & Joinery Student 2015'.
Since joining the Finlaysons team, Arron has continued to impress all around him. Finlaysons carries out all types of building maintenance, joinery, painting and roofing contracts.
Arron had started the first year of his apprenticeship with another contractor, but due to circumstances outwith his control, found himself looking for a new employer to continue his apprenticeship – and Finlaysons took him on.
Ian Baxter, operations director for Finlaysons said, "We were looking for an apprentice and approached the faculty head at Borders College who recommended Arron, who had been named their best first year student in 2013. We were impressed by his achievement and took him on a week's trial. Arron immediately fitted in well and we were only too pleased to hand him an apprenticeship. He picked up skills very quickly and within months was working at a level that was above his college year. Ever since, he has consistently produced work beyond his years and can diligently and independently get on with tasks.
"This is excellent progress indeed for a young man who came close to falling out of the system at the end of his first year due to the economic downturn. We hope the Bob Wall Merit Award places Arron firmly on the path to further successes. We are very proud to have him working as part of our team."
Bob Wall was managing director of Deerness Fencing & Landscaping, part of Esh Group, when he tragically died in 2011 from a rare neurological illness. It was agreed with Bob's family that Esh Group would create an annual award in his name as a tribute to his dedication of encouraging the younger members of the team.