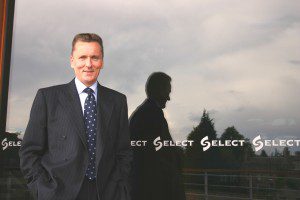 SELECT is hosting electrical and building engineering services experts from all over Europe this month.
The campaigning trade body for Scotland's electrical sector  is laying on a Scottish-flavoured programme with a number of events for the AIE-GCP Europe Installers Summit 2015, which will be take place in Edinburgh from September 10 to 12.
Keynote speakers include Scotland's Minister for Business, Energy and Tourism Fergus Ewing. Delegates will also be treated to whisky tastings, a gala dinner at Edinburgh Castle – and even a trip to see the giant pandas at Edinburgh Zoo.
SELECT's managing director Newell McGuiness, who addressed the AIE's prestigious event in Slovenia last year, said, "It is a great honour to be able to welcome these major, multi-national organisations to Scotland. The electrical industry is more vital than ever to economies around the world and we have lined up a programme that is innovative and informative, as well as planning to show our guests some of the highlights of our beautiful country."
The European Association of Electrical Contractors – the AIE – comprises 20 national associations representing 175,000 contractors, a workforce of 900,000 and a turnover of €60 billion. The AIE, which was established in 1954 to resolve common problems, is now concerned with the technological infrastructure for the future of European society.
GCP Europe is the voice of the efficient building engineering services, representing and promoting the interests of the Building Services Engineering Sector. It has 22 member associations in 18 countries.
The focus for the Scottish event will be the Radisson BLU Hotel on the Royal Mile in Edinburgh, which is a UNESCO World Heritage Site. Delegates will be able to enjoy the capital's stunning architecture, vibrant culture and fine food.
The summit will start in true Scottish style on Wednesday September 9 with a golf tournament at Gullane Golf Club, followed by a civic reception at the City Chambers in Edinburgh.
The following day, as delegates engage in the business of the summit, partners will be entertained with a visit to romantic Dryburgh Abbey and Sir Walter Scott's former home and gardens at Abbotsford House. The evening will be rounded off with a whisky masterclass.
On September 11, the business will include a conference which will bring the AIE and GCP-Europe delegates together.  Speakers will include Mr Jonathan Astwood, Head of Practice Unit, of the Building Standards Division, who will give an overview of the Scottish Government's Approved Certifier Scheme; and Mr Rudi Klein, Chief Executive of the Specialist Engineering Contractors' Group, who will speak on Re-engineering Construction Procurement
The delegates partners will have the opportunity to visit Edinburgh Zoo and see the UK's only pair of giant pandas.
The event will conclude with a gala dinner in historic Edinburgh Castle.
Mr McGuiness said, "We are delighted to be able to introduce our fellow professionals to Scotland and to share our experiences of best practice across Europe. We hope to give them a great Scottish welcome."