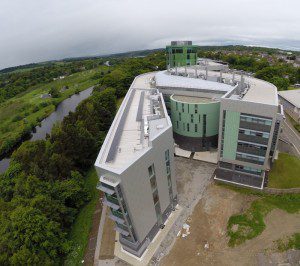 Kier Group plc, the parent company of Kier Construction in Scotland, has reported a 14% increase in revenue to £3.4 billion for the year ended 30 June 2015.
Underlying profit before tax is up 17% to £85.9 million.
The construction side of the business saw a 15% growth in revenue while the Group's property division enjoyed an underlying operating profit increase of 42%.
The figures reflect strong growth across Scotland and the north-east of England with Kier Construction in Scotland now employing 186 people and rising.
The strong results reflect Kier Group's success across diverse sectors including healthcare, education, commercial, retail and defence. Within Scotland, Kier Group has a turnover in excess of £230 million per annum.
Brian McQuade, managing director of Kier Construction's Scotland and north-east England business said, "Our financial results show that we have delivered on margin, turnover and diversification into sectors as planned, with new ventures into the maintenance and management markets proving particularly exciting.
"We have a positive track record of collaboration, strong technical ability and a culture of innovation north of the border, and I look forward to continuing this good work."
In addition to being one of five principal supply chain partners on the NHS' £600 million Health Facilities Scotland framework, Kier Construction is an equity stakeholder in hub South West Scotland, which will deliver £600 million of infrastructure investment in south-west Scotland over the next decade.
Most recently, Kier Construction completed a £10 million property redevelopment in the heart of Glasgow's west end at Clifton House and Stewart House, following the completion of a similar project in Dumbarton Road in Glasgow's Partick district earlier this year.
Elsewhere, significant projects have included completing the latest phase of Robert Gordon University's £120 million Garthdee campus project, the construction of a £14 million new community centre and primary school campus at Caol, Fort William, and the development of the £7.9 million Cumbernauld Community Enterprise Centre.
Kier Group plc chief executive, Haydn Mursell added, "I am pleased to announce we have delivered solid growth and increased profitability. Economic confidence is returning to our core markets and, furthermore, the acquisition of Mouchel represents a major step in accelerating the Group's five-year strategy.
"All our divisions have performed well. In property, the market remains strong and we have ample support from funders and other investors. Following its expansion, our residential division is well-placed to help address the national shortage of affordable housing. In construction, the regional building business has an established position on public and private sector frameworks and our infrastructure business is benefiting from continued greater investment by the UK Government in infrastructure in the medium term and internationally, the Middle East pipeline is strengthening. Our services division will benefit from the £700 million AMP6 contracts secured during the year and the Mouchel acquisition has made Kier the sector leader in the UK highways management and maintenance sector. We are committed to offering a full, integrated approach to our clients by maximising the breadth and combination of capabilities available in the Group, assisting them to address the budget challenges they face.
"We continue to simplify the portfolio and restructure our businesses and invest in our future growth. We continue to improve the quality of our earnings to reflect the changing demands of our markets. With a £9.3 billion order book, a strong balance sheet and continued progress on our Vision 2020 goals this year, we look forward to the future with confidence."