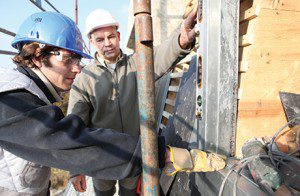 NEW figures from the Office for National Statistics show employment in the Scottish construction industry increased by 9,000 to 176,000 during the three month period to June 2015.
The figures come on the back of latest official output figures published last week, which showed record output of more than £13 billion from the Scottish construction sector during the 12 months to June.
Vaughan Hart, Scottish Building Federation managing director said, "It is further good news for the Scottish construction industry that we've seen a 5% rise in industry employment during the second quarter of 2015. That said, construction employment still has some way to go to come anywhere close to pre-recession levels. Coupled with record levels of industry output, the number of jobs supported by every £1 million of industry output has slipped from more than 20 prior to the recession to 13 over the 12 months to June this year.
"Of course, signs of increased productivity within the industry are to be welcomed. However, these latest figures reinforce our view that the main challenge Scottish construction now faces is to rebuild its skills and employment base by attracting more workers back into the industry."