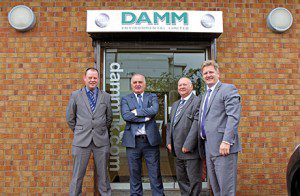 After only a decade in the industry, Glasgow-based DAMM Environmental are already challenging expectations in the drainage sector. Project Scotland recently visited the company's HQ to find out what's in the pipeline.
EVERY day we take drainage for granted.
When we shower in the morning, when we flush the toilet and when we run the tap, we never think of where the water comes from, where it's going or who ensures that everything flows as planned.
From the first designs of covered drainage in the ancient Indus Valley over 3000 years ago, to the Roman aqueducts that carried water to public baths and private homes throughout Europe, to the great sewer network of Central London developed by Victorian engineer Joseph Bazalgette, drainage has continued to evolve as cities expand and modernise to accommodate flooding populations.
Bruce Taylor, Environmental Health & Safety Leader for DAMM Environmental, knows that with dependable drainage so heavily embedded in society and integral to peoples' day-to-day existence, a shortage of work these days is rare.
"There are drainage issues that are never going to go away," said Bruce. "They've been here for a couple of hundred years and they'll be here for the next 500, someone will always have to fix them."
Established 11 years ago by Managing Director Gerry Russell and his brother Stephen Russell, Glasgow-based DAMM Environmental has steadily grown to become one of Scotland's leading drainage and environmental water specialists.
Offering drainage repairs, Industrial Services, Vacuum Tanker, high-pressure jetting, CCTV pipeline inspection, emergency spillage response, flood prevention, utility installation and more, DAMM's clients range from local authorities including Glasgow City Council and Stirling Council, to major private companies and smaller independent businesses.
"I'm relatively new to the business," said James Turnbull, Chairman of DAMM Environmental.
"I only came to the company a couple of years ago but one of the main things that attracted me to DAMM was that they had a really good customer base.
"In our business it usually starts with a problem, whether that's a spill and response, a blocked drain, a flood or a collapse, you've got a problem.
"If you're going to build a business that people are going to come back to, then you cannot be a fly-by-night.
"And what I saw was a business with a good customer base, that was doing well and growing, and had this family of people and an idea that we should do what we say we're going to do and be trustworthy enough that we're going to charge you a fair price.
"Gerry Russell's phone is always on," James explained. "And that level of personalisation in the business is key.
"Can we be responsive, can we be reliable, can we be trustworthy?"
"This business is a reaction business; it's 365 days, 24 hours, 7 days a week," added Bruce.
With a passionate and dedicated Executive Team, the company also ensures its operatives are trained to the highest standard and developed an in-house training facility to combat complacency within the industry.
"To be better than the rest, your employees, your operatives have to better trained," Bruce explained.
"The workers out there were a mix-mash, so we thought to develop our own. We built a training centre, we employed a trainer, we moved that forward to get the highest standard we could achieve (SVQ Accreditation). Let's do that, let's become unique."
The trainer in question, Steven McIver, DAMM Environmental's in-house Training Co-ordinator, has worked in the industry for over 30 years.
Starting out as an assistant on a drain cleaning unit, Steven then rose through the ranks in supervisor roles and management positions before starting his own business and eventually joining DAMM.
He now offers a range of N.A.D.C. WJA & SVQ approved courses as well as specific training needs onsite and travels the country with the company's mobile confined space training unit, providing trainee operatives with invaluable experience working in cramped, low-light and enclosed conditions before they tackle the real thing out on the job.
As well as a modern training facility at the business's Hillington base, complete with classrooms, state-of-the-art projectors and demonstration areas, DAMM has also recently created three SQA approved Modern Apprenticeships (MA) in drainage.
The first of their kind in the industry, the MA programmes are in high-pressure water jetting, CCTV surveying and sewer maintenance and repair.
"Although they're predominately aimed at 16-24 year olds, the apprenticeships are really open to anyone within the industry," Steven explained.
"It could be guys that have been doing it 25 years but have no formal qualifications and want to get that piece of paper.
"If operatives aren't trained right they could just end up moving the problem, transferring the blockage to another area of the drain, costing more time and more money. It's about doing the job right first time."
"We're a great believer in spending the extra time to get the guys trained, doing the job right and in the end having a happier customer with a better job done," added James.
Although DAMM are currently striving to raise customer expectations and set a new industry standard of highly trained operatives, the company is also working to inspire the next generation of workers to join an industry that seems increasingly maligned and undervalued.
"You know, it's not a sexy industry, but there's a lot of work, it's well paid and really you can work as much as you want to work," said James.
"We're now going to schools, promoting the industry, talking to pupils and teachers and inviting them to come along and see this business."
"We have a major contract we won about three or four months ago with a local council and as part of that, through our Community Benefits offer, we're setting up workshops within primary and secondary schools to promote drainage, what the industry is about and the environmental concerns of the sector. This is something that we're building up and will kick off in the next school term," said Steven.
Drainage, which is commonly associated with dirty water, sewage and blocked toilets, is in fact just as much about cleanliness, disinfectant and running water.
DAMM regularly work with some of Scotland's finest fish farms, where clinical levels of cleanliness in highly sensitive areas are required to minimise the risk of infection to the fish.
When plant equipment needs industrial cleaning, blood transfusion units require maintenance or road spills need emergency attention, it's companies like DAMM that take the work on.
Changing peoples' perceptions of drainage requires time and increased awareness.
So aside from clean work, ample employment and stable wages, what else attracts people to the industry?
"It's so diverse," Steven enthused. "You're never stuck to the same thing day in day out.
"This is why a lot of the guys, both the older operatives and the new starts, enjoy the work so much. It's not tedious, it's different each day and you come up against a new problem every time, and the satisfaction you get when you solve that problem is immense."
"I've run the same training courses every week for years but it's different people you're working with all the time, different characters."
Bruce continued, "The beauty of this kind of business is there's something new everyday.
"It's not a 9 -5 job. If someone has a blockage, they want it cleaned yesterday. You can't say, 'We'll come along tomorrow.' So when someone phones us, it's done now."
Whilst there's evidently an abundance of varied and distinct jobs to be completed, DAMM's portfolio could increase even further as mortgage lenders are now looking to introduce new drainage certification to the Home Buyer's Survey.
If the legislation comes into effect, properties over a certain value will have CCTV drainage surveillance completed before purchase.
According to Bruce,  predictive, preventative drainage procedures should be adopted to keep networks operating as opposed to reactive maintenance.
"You drive round half the roads in Scotland and there's diversions on for flooding we had that was hardly immense," Steve added.
"That's reactive rather than preventive. Four or five years ago we started the School Saver programme to maintain and repair school drains during the summer because of the high number of callouts we were getting to primary schools.
"Several councils realised this needs to be done every year and should be done prior to the schools' opening.
"And it can be disastrous if it's not done right. Something that could've cost you a minimal amount ends up costing you hundreds of thousands of pounds."
Now, with an open day scheduled for September 18th, the next generation of operatives awaiting inspiration and the current workforce in specialist training, what are DAMM Environmental's hopes for the company and the industry's future?
"Grow it. Make it more secure, invest in more equipment, build the size of it," said James. "I think the market is £100 million plus in Scotland, there's no reason why we couldn't get 10% of that."
"We've already got one of the best-trained workforces," Steven continued. "We want to build on that, and make sure everyone gets home safe at the end of the day.
"The client knows that when they make that initial call, they can then hand it over and everything will be sorted. They don't need to keep revisiting it and checking up because we'll own  and run with it.
"We'll keep informing the client with work progress,  butwe're taking the pressure off their shoulders."