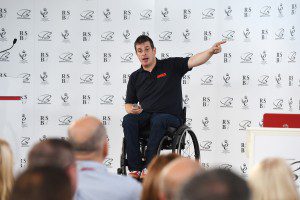 CITY Building has welcomed a leading speaker on behavioural safety training to its Glasgow headquarters to share insights as part of the Proud 2B Safe programme.
Jason Anker was recently made MBE in recognition of his services to health and safety in the construction industry.
He visited City Building staff to deliver talks to managers, supervisors and apprentices working in the construction industry as part of the Proud 2B Safe programme, which aims to take safety beyond compliance.
Jason spoke about how his personal experiences have affected him and his family and how it is important to keep yourself safe at work. Following a question and answer session, individual employees made personal commitments and signed up to the Proud 2b Safe campaign.
Jason was paralysed from the waist down due to an avoidable incident on a construction site in 1993 at just 24 years old. Speaking of his work with Proud 2B Safe, he said, ''We need to change the way we think about safety, currently there is still a fear about speaking up if something is or appears unsafe, sometimes this is perception but we have to strive for a culture where it just the norm to accept that everybody has the right to go home safely to their loved ones'. Proud 2b Safe takes safety beyond compliance."
Graham Paterson, executive director of City Building added, "City Building has always taken its commitment to health and safety very seriously and this is why we were delighted to welcome Jason to meet employees to allow him to share his story and illustrate how important it is that our team keep themselves safe on site.
"Our team were very engaged by Jason's workshop and presentation and I believe it has helped demonstrate to our team how important the policies and procedures are that we put in place both on site and in our offices and training facilities to ensure our team operate in a safe environment."