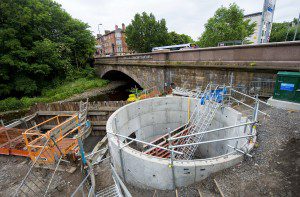 A number of otters had to be relocated as part of Scottish Water's upgrade to the waste water infrastructure in the Cathcart area of Glasgow. The aim of the £1.2 million project was to improve the natural environment of the White Cart Water.
The project, part of Scottish Water's £250m, five-year investment in the Greater Glasgow area's waste water infrastructure, involved the construction of a new Combined Sewer Overflow (CSO) with a screen and pipework at Holmhead Crescent.
Scottish Water said the investment will improve the natural environment of the White Cart Water where a pre-existing CSO had no screen. The new infrastructure will mean that, in storm conditions when the new CSO discharges into the river, solids will remain in the sewer network.
As part of the project, a number of otters were moved from the south to the north bank of the river prior to construction work commencing. The animals have protection under the Conservation (Natural habitats) Regulations 1994 as a European protected species and Scottish Water and its contractors George Leslie were granted a licence from Scottish Natural Heritage to carry out the work.
Allan Dougall, Scottish Water's project manager said, "Otters are fully protected under the conservation regulations and, in liaison with Scottish Natural Heritage, we moved the local population on this stretch of the White Cart Water from its holt on the south bank to a new holt on the opposite side. The operation was delicate and took some time, but we are delighted that it was successful and the otters are carrying on as normal in their new home.
"Scottish Water takes its environmental responsibilities very seriously and, in accordance with the regulations, did everything possible to protect the otters and avoid them being adversely affected by our work and the new infrastructure."
The first phase of the main construction work took place on the embankment adjacent to Holmhead Crescent. A small kiosk, or electrical cabinet, which controls the CSO was installed at the corner of Holmhead Crescent and Holmlea Bridge. A new pipe and headwall was also built next to the river to relieve the sewer system during storm events.
On completion of the first phase, the river embankment and surrounding areas was reinstated.
Joanna Peebles, Scottish Water's regional communities team manager added, "We are delighted to have completed this important environmental improvement project in Cathcart. We did everything possible to minimise any inconvenience to local residents, businesses and road users, as we did for the otters, and we hope our customers appreciate that any short-term inconvenience will be far outweighed by the long-term benefits this investment will deliver."